Adam Christodoulou is set to race in the Le Mans Series for 2011, pairing up with his former team CRS Racing, with whom he won the Formula Renault UK Championship in 2008.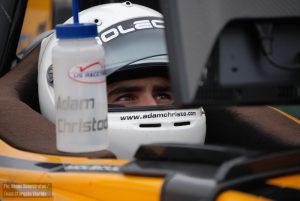 The 21-year-old from Lichfield, in Staffordshire, has spent two years racing in the USA, where he topped the Star Mazda Championship in 2009 before trying his hand at sportscar racing with the Rolex Sports Car Series.
For the coming season he will be driving the No. 82 CRS Ferrari 430 in the new LM GTE Am class alongside returning CRS racers Klaas Hummel and Phil Quaife.
Christodoulou returned to the team briefly in 2010 to compete in two GT Open events and is looking forward to the season start at Paul Ricard in southern France. The series will test there later this month before racing on its Le Castellet circuit early in April.
Hummel is a non-professional racer who has worked his way up through the SLR Trophy, FIA GT3 and the International GT Open. Quaife has already completed a season in the Le Mans Series, making what the team describes as "rapid progress".
Christodoulou said: "This is a great opportunity for me. I'm with a team that I know well, driving a car that they know well. I think we have a strong line-up and every chance of taking some good results this year, especially as anything can happen in those long races.
"To be racing in the Le Mans Series will be a great challenge too, competing against some of the world's top drivers. I'm looking forward to getting back in the car next month to start testing."
Mark Busfield, CRS Managing Director, added: "We're very pleased to be in a position to continue racing in the Le Mans Series. We enjoyed our LMS racing last year so it's great to be able to run a car to complement our programme in the new Intercontinental Le Mans Cup.
"We're all very happy that Klaas Hummel and Phil Quaife are embarking on their third seasons with CRS, while Adam Christodoulou has won a championship with us, been away and then come back for more!"