A star-filled charity karting race featuring celebrity drivers and ordinary members of the public was settled at the final corner as the team led by Duncan Tappy took victory for the third time in four years.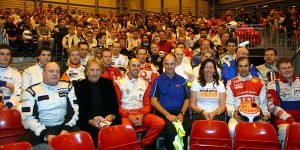 David Brabham's Racing4Charity organisation staged the contest at the Autosport International show to raise funds for the Malaria No More UK charity, along with a number of other good causes including the Richard Burns Foundation and Headway, in memory of Henry Surtees.
The race, along with auctions of items including one of Jenson Button's race suits, raised £59,500 – taking the total raised by Racing4Charity in the last three years to more than £151,000.
The 27 teams each consisted of four professional drivers and two members of the public, with Le Mans winner Brabham taking part himself along with star names such as Allan McNish, Anthony Davidson, Andy Priaulx, Alex Wurz, Franck Montagny and Matt Neal.
The world of the media was represented by teams including Louise Goodman, Ted Kravitz and Lee McKenzie, while up-and-coming British racers included Paul di Resta, Oliver Turvey, Alexander Sims and Sarah Moore.
But it was Tappy's team, the Loose Cannons, who successfully defended their title from Salvo Cachia's squad – one of two teams supporting the Harley Slack Fund.
Tappy was joined by Riki Christodoulou, Will Stevens and Paul Rees, along with public members Dave Fry and Shaun Traynor who had the task of qualifying the team before each driver took 15 minutes of the 90-minute race.
Starting 13th, Tappy took the first leg himself and had gained the lead by the end of his stint. F3 driver Christodoulou took the next leg, then amateurs Fry and Traynor kept the team in fifth place.
Karting champion Stevens, a Brawn GP development driver, moved up to second before Formula Palmer Audi front-runner Rees, a likely competitor in F2 next year, fought a hard battle with Star Mazda champion Adam Christodoulou, beating him at the final corner.
Tappy said: "We returned to the Celebrity Karting Challenge as defending champions, so we are delighted to retain the title. We'll definitely be back in 2011, as there really isn't another event quite like this with such an impressive driver entry list.
"I really enjoyed the race again this year. It's a great event with so many drivers getting together pre-season and a good way to start the year with a bit of fun and a lot of competitive spirit on one track.
"Having a whopping 27 teams made for a brilliant, if slightly chaotic, race. It's in aid of a good cause and all the more enjoyable for winning it again."
Riki Christodoulou said: "Paul led from lap 56 but then was held up in traffic allowing my cousin, Adam, to catch us up and snatch the lead with eight laps to run. I was hanging over the pit wall screaming and waving Paul on for inspiration.
"Paul re-took Adam before getting bumped out of the lead at the hairpin with one minute remaining but then the race was stopped when crash barriers flew through the air due to other multiple accidents. Rules stipulate results are decided on the lap before the red flag so that meant we'd won – again!"
Adam Christodoulou's second-placed squad, Team Harley Slack Racing 1, was organised by Salvo Cachia and also featured Ben Collins, Amanda Stretton and public members Stewart Hutchinson and Johnny Spencer. Third went to the Mad Ferrets, consisting of Nigel Moore, Alex Mortimer, Gordon Shedden, Tim Sugden and public members Rene Robertson and John Taylor.
Brabham said: "I'm very happy with how this whole event has come together and to have achieved our ultimate goal of raising awareness for Malaria No More UK.
"I'd like to thank everyone for their amazing support, particularly the public drivers who donated to race alongside a fantastic line-up of celebrities, helping to make our first appearance in the Live Action Arena a success.
"I am honoured to have been joined by such an amazing group of the sport's best drivers, all giving up their free time to support Racing4Charity and my special thanks go to each and every one."
The full result can be downloaded from the Timing Solutions website here while the live commentary will be available on Radio Le Mans as a podcast. The race will be broadcast by Sky Sports 3 at 7pm on Thursday 28 January and will be repeated regularly in the UK, including on Motors TV.