After a 2007 season dominated by off-track controversy, what we all wanted was a 2008 where the racing made the headlines. And it seems that the Max Mosley affair isn't going to prevent us having it.
The FIA president was pictured in a British Sunday newspaper handing out (and receiving) an altogether different sort of punishment from his usual disciplinary role and has faced intense pressure ever since to resign – or, at least, stay out of sight. Bernie Ecclestone, for example, pointed out that his presence at Bahrain this weekend would "take all the ink away from the race".
That's likely to be true in the print media, which will always worry away at a loose end until there's nothing left to write about. But it seems as if bloggers have other priorities.
Take a look at these stats, compiled using icerocket.com's trends tool: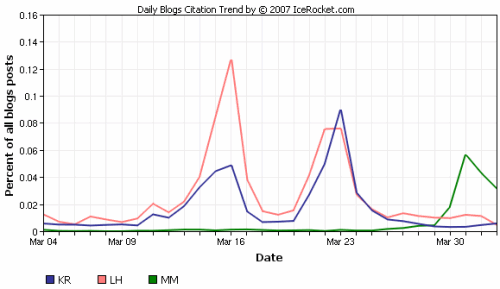 What the graph shows is the amount of blog posts written over the last month that contain any of the names Kimi Raikkonen, Lewis Hamilton or Max Mosley.
While it clearly shows a surge in posts about Mosley following Sunday's revelations, it also shows that, despite the way the story crossed further into the mainstream than usual motor sports business, it still doesn't match up to the coverage bloggers gave to the two races so far this season.
While Mosley does get more attention than Raikkonen's woes in Australia, in all other respects he appears to be considerably less interesting to bloggers than actual racing.
Which, by any standards, is a good thing, right?