Adam Christodoulou's bid to win a third title in three years has begun successfully with pre-season testing in the Atlantic Championship car that Simona de Silvestro drove to victory four times during the 2009 campaign.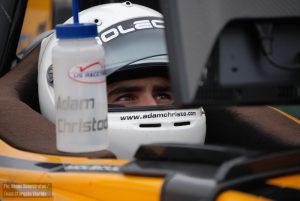 Christodoulou, the 2008 Formula Renault UK champion, earned himself a fully-funded Atlantics drive for next season by winning this year's Star Mazda Championship in the final race of the season at Laguna Seca.
As part of his preparation for next season he got his first taste of the Mazda-Cosworth-powered Swift series car in a two-day test with Team Stargate Worlds at Buttonwillow Raceway in California on Thursday and Friday this week.
Swiss driver de Silvestro led the 2009 championship in the same car until the final race, when a rival's rash overtaking attempt punted her off and ended her title chances. The team is now hoping to run her in the IndyCar Series in partnership with KVM Racing.
Christodoulou's campaign to follow in her footsteps began with almost 400 miles at the specialist testing circuit where the team has its home base. To their satisfaction, the 20-year-old got up to speed quickly and rarely put a wheel wrong.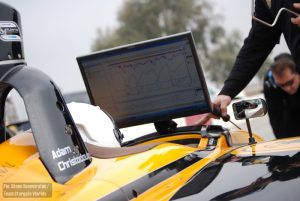 "All in all, it was a positive test – I was pleased," said engineer Burke Harrison. "He was very consistent and obviously has a lot of raw talent. The conditions here weren't great but there was very little off-track drama at all and the feedback was good. I thought it was a very good test.
"We made progress on the balance of the car, especially the second day. That's the way I judge someone. We were trying stuff – we weren't just driving around. We worked the day like you would a good test. He never got tired, the times were consistent, his feedback was good, he went out and got after it."
Christodoulou said: "It's been really good. We've pretty much had two days of flat-out testing. It's been quite cold, but it's been some good testing and it's been an enjoyable first experience in the Atlantic car. I've really enjoyed it.
"We never ran into any trouble and ended up just a fraction off Simona's time around here, so I think for my second day in the car, it's gone extremely well. The team did an awesome job. We didn't have any problems on their part. I had one minor detour off the track, but apart from that, everything else ran smoothly."
He will be back behind the wheel with Team Stargate Worlds at Sebring International Raceway on the weekend of January 22-24 for a test involving other Atlantic squads.
The series is due to run for its 37th season in 2010 and boasts many great names among its graduates, but has fallen on hard times in recent years. The most recent championship regularly featured fields of just 10 and there were doubts over the viability of the winner's prize fund.
It suffered a further blow recently when IndyCar management poached the Star Mazda Championship, which had appeared on the same programme as the Atlantics for much of 2009, to form part of its new 'Road to Indy' development system – breaking the link that had allowed Christodoulou's promotion to the series.