There will be no repeat victory for Team GBR in the A1GP season opener at Zandvoort this weekend, as the delay in production of the new Ferrari-inspired race car has cost them the chance to take part.
British boss Katie Clements confirmed that her squad would be one of several teams unable to prepare their car in time to compete at the Dutch circuit – but she pledged to not let the blow knock Team GBR out of the championship hunt.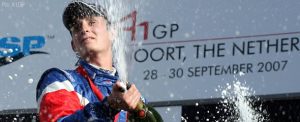 Last year Oliver Jarvis won the feature race at Zandvoort on his way to Britain's third consecutive third-place championship finish.
Clements said: "We are obviously extremely disappointed that, despite working incredibly hard, A1 Team GBR will not be racing at Zandvoort this weekend.
"I'm exceptionally grateful to everyone involved in trying to make it possible. However this small set-back definitely hasn't changed our ultimate goal of winning the championship this season, having come so close in all previous seasons.
"I am pleased that this will still be possible due to the amended points system announced by A1GP, which means we will not be penalised for missing a race."
The series has announced that only the best nine results for each team will count, meaning that over the course of the 10-race season the teams that miss Zandvoort should be able to recover. However, they will lack their rivals' ability to discard a poor result, and will be significantly behind in data.
The series abandoned its tried and tested Lola/Zytek machinery at the end of last season in favour of a high-profile link-up with Ferrari, in which the Italian marque supplies engines and advises A1GP's in-house team building the cars.
However, delays in the supply of electrical parts resulted in not enough cars being built in time for all the teams to be able to race – even after the planned season opener, at Mugello in September, was cancelled.
While some, like Malaysia, Australia and the Netherlands, took part in a successful test at Donington Park in mid-September, others have been left scrambling in a race against time.
The full A1GP grid consists of 23 entries. Two new nations – Monaco and South Korea – have joined the championships for 2008-09, while the Czech Republic team seems to have left.