Looking for a chance to get up close and personal with this car – and 21 others like it?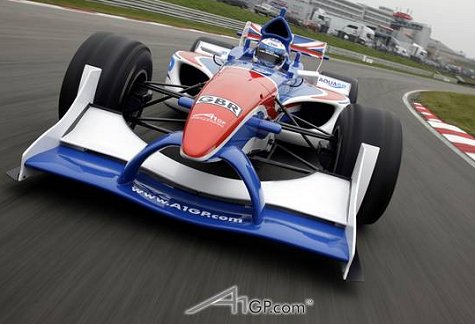 In that case, don't forget that A1GP is holding a simulated race start in the west end of London on Sunday to promote the series ahead of its British round at Brands Hatch from May 2.
According to the promoters, the cars will line up on a dummy grid and be attended by team personnel who can explain exactly what it means to race in the series.
The event, taking place in lower Regent Street (Piccadilly Circus is probably as good a bet as any for a Tube stop), starts at 11am and will be marked by the distinctive sound of an A1GP car firing up its engine.
The schedule includes driver appearances as well as special guests, all of whom will be interviewed on a central stage. Among those on hand will be former F1 and Team India driver Narain Karthikeyan, Team Brazil supremo Emerson Fittipaldi, British and Irish drivers including Oliver Jarvis and Adam Carroll, and current series stars Jonny Reid and Neel Jani. See full event details here.
Sounds like fun. If you can tear yourself away from the first European round of the F1 World Championship, that is. Seems like a bit of a scheduling clash for us, and we'll probably elect to stay at home for the latter.
So, if you're planning to attend, leave us a comment and let us know how it went.
Check Brands Hatch ticket prices here (link goes to Seatwave.com ticket exchange site) >>