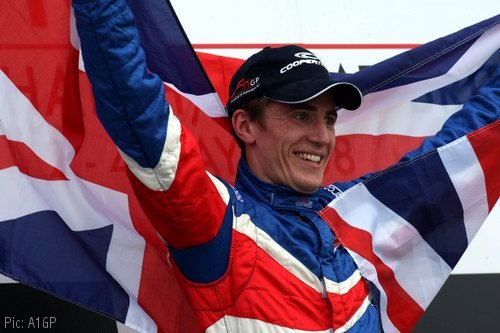 Robbie Kerr delighted home fans with a win and a close second in the final two races of the A1GP season at Brands Hatch, seizing third in the final standings.
The Brits had entered the weekend hoping to move up from fourth by overhauling the French, but Kerr was so dominant that the home team fell just a point short of grabbing second from New Zealand.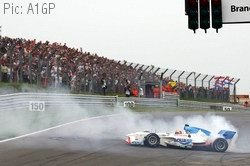 Neel Jani celebrates winning the title with a crowd-pleasing donut
The Kiwis had entered the weekend as the only team with a mathmatical chance of depriving the Swiss of the overall title, but that hope evaporated during two poor qualifying sessions and a pair of typically strong race performances by Neel Jani confirmed Switzerland's victory.
Both the sprint and feature races saw the pole-sitters take victory, with Kerr dominating the shorter race and just failing to snatch victory from India's Narain Karthikeyan in the longer.
Kerr, who took victory in the Brands Hatch Sprint race last year, has now scored three wins for his nation during his A1GP career.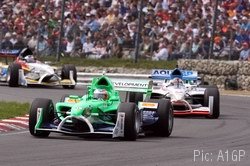 Adam Carroll runs ahead of Neel Jani in the sprint race
The USA's Jonathan Summerton started second and held on there despite pressure from Ireland's Adam Carroll who muscled past Jani to take third. New Zealand's Jonny Reid qualified 10th and recovered to 8th in the race. Jani's fourth was enough to clinch the title with a race to spare.
Pakistan's Adam Khan qualified 18th for both races and held that position in the sprint race – but in the feature he was eliminated on lap two after an ugly crash with Australia that brought the safety car out for six laps.
That race saw India secure its second win of the season, with Team GBR just losing out during the second round of pit stops. Kerr maintained his second place grid spot behind Karthikeyan at the start, pressuring the race leader in the opening stages of the 48-lap race.
When India and third-placed Ireland made their first mandatory pit stop on lap eight, GBR opted to stay out in clean air and come in on lap nine. After a fantastic pit stop from the British crew, Kerr rejoined in the lead.
The British racer held P1 until his second compulsory stop on lap 32 when he emerged just behind India to rejoin the action in second. He was unable to pass Karthikeyan and had to settle for second.
Carroll was looking good for third until losing his front wing while challenging Karthikeyan for position and being forced to pit. He did manage to score the point for the fastest lap on the way to securing Ireland's sixth place in the championship.
He said: "Going into the top hairpin India locked up and went wide so I just stayed on the racing line. I couldn't overtake him so he should have just stayed where he was because you can't just keep turning in.
"I was as tight as I could've been and he just turned too hard right and hit me. I tried to hang on but a few laps later the wing exploded and ripped the wheel out of my hand so I was lucky we didn't have a bigger shunt."
Ireland's misfortune allowed Jani to take third, while Reid's storming drive from 17th on the the grid to 8th at the flag was just enough to defend third in the championship.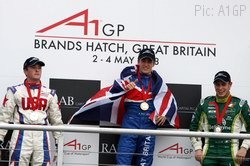 Robbie Kerr and Adam Carroll share the podium with Team USA
Kerr was pleased with the weekend – but disappointed to have come so close to a double victory and second in the championship.
He said: "It was a fantastic weekend for GBR, it was just a shame we couldn't pull the second win off. Narain and I were so equal and after the first pit stop we thought we had done enough. Then unfortunately the second pit stop didn't quite go our way, but it's a team sport and we all worked hard. It's just one of those things."
Talking about coming so close to beating New Zealand, he added: "The guys told me the situation and of course it was frustrating and I wanted to push but I had to consolidate third place in the championship as well.
"There was no point mucking it up with Narain and tangling over nothing, so we pushed and made sure we got a good result and unfortunately, again, we were a couple of points off second place in the championship. We will fight on for next year and I'm sure it's going to be even tighter and closer with the new cars."
Next year A1GP switches from Zytek-powered Lola cars to Ferrari machinery, and has already confirmed that the first race of the season will be at Mugello on September 21.
Irish race engineer Dan Walmsley said: "We've shown everyone this season our true pace, what a great team we have and that Adam is a fantastic racer so we're looking forward coming back next season and trying to deliver the same, if not better results."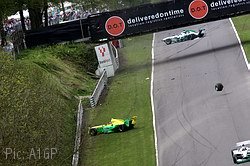 Not for the first time this year, Adam Khan clashed with the Australian car
A glum Adam Khan said: "This really isn't the way I wanted to end the season. We've all put a lot of work into this season and it's such a shame to have crashed out of the Feature race before we were able to show what we were capable of."
Talking about the crash with Australia's John Martin that ended his feature race, he said: "I knew that John was behind me and then he came along side. I defended my position and we banged wheels, which sent me into the crash barriers. Its not at all satisfying to end the season like this and I'm sorry that we weren't able to deliver a better result for all the fans."
Swiss seat holder Max Welti was, unsurprisingly, delighted with the championship win: "It's absolutely outstanding. It's such a great feeling – you just cannot believe it. To represent Switzerland all over the globe and to actually do it is fantastic. Neel came on the radio after he crossed the line to thank the team – he knows that to win the world championship is not only his achievement, but everybody in the team as well."
Regular readers will remember we at Brits on Pole were impressed with ex-GP2 and Champ Car driver Jani during the pre-season Silverstone testing, writing: "It was our impression that Neel Jani, for Switzerland, was consistently the most aggressive in attacking the kerbs while GB's Oliver Jarvis came out of Bridge and up towards Priory as if he'd been fired from a cannon."
Jarvis had set the stage for GBR's late charge in the standings with a win at the season opener in Zandvoort and a pair of second places in Mexico City, but shared driving duties with Kerr all season and is now part of Audi's DTM set-up.
Prior to the Brands Hatch weekend, A1GP team boss Katie Clements has said the team will switch to having one main driver next season as part of its attempts to challenge for the championship.
Team GBR has now finished third in each of the three seasons A1GP has run. Its 2007-08 campaign was crippled by inconsistency, with the team failing to score in six of the 20 races compared with just twice each by New Zealand and Switzerland.