Mikhail Aleshin and Esteban Guerrieri took victories in Belgium as a combination of heavy rain and heavy-handed stewards played havoc with Formula Renault 3.5's visit to Spa-Francorchamps.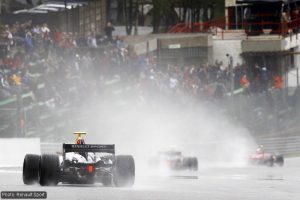 After two wins in four races, Russia's Aleshin has a clear lead in the drivers' standings while his team, British outfit Carlin, holds a narrow advantage over France's Tech 1 and the UK's Fortec in the team championship.
His victory from pole in the first race came despite the sudden arrival of illness, a fever making it difficult for him to fight off the initial challenge of New Zealander Brendon Hartley
But the Red Bull F1 reserve saw his hopes evaporate on lap 16 when his car came to a stop. "Brendon was very quick, quicker than I was," said Aleshin. "This morning I had a temperature of 38.5°C, so I wasn't on top form. But if you're going to win you have to forget about all that."
Estonia's Sten Pentus, who won during the opening round in Spain, inherited second and the podium was completed by Stefano Coletti – the Monégasque driver laying to rest the massive crash he had suffered at the same circuit in GP2 the previous season.
"When I walked round the track for a reconnaissance I saw that the marks of my crash last year were still there," he said. "During my first lap, that was a little unnerving. After my accident, I'm very happy to get my first FR3.5 Series podium here at Spa."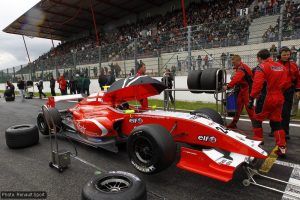 Jon Lancaster had qualified 11th and raced through the field to grab fifth from Anton Nebylitskiy on the final lap. But a post-race protest saw them hit with 10 second penalties that dropped them to ninth and 10th.
His boss at Fortec, Richard Dutton, told Autosport: "Jon passed Charouz at the last chicane by cutting the corner but then let him through, so that's why they didn't give him a penalty at first, but he has now been protested by Mansell."
The successful protest saw Greg Mansell promoted to fifth.
Qualifying for race two was affected by wet conditions, America's Jake Rosenzweig taking pole, but the contest itself was delayed by a hailstorm that struck during the formation lap.
The conditions during the run-in led some drivers to gamble on their tyre choices and others to make a late change, and the race itself started under the safety car.
Rosenzweig built a lead that lasted to the mandatory pit stops, at which point the stewards announced that he and nine other drivers – almost half the field – would have to serve drive through penalties for changing tyres on the grid within three minutes of the start.
The main beneficiary was Argentinian Guerrieri, who last year matched multiple Champ Car champion Sebastien Bourdais wheel-to-wheel in Superleague Formula but this season had not managed to complete a race – failing even to start the first one at Spa.
According to the official World Series by Renault post-race statement: "After the tyre changes, mandatory stops and the acrobatics by certain drivers, Esteban Guerrieri performed an classy manoeuvre to claim the lead."
He held the advantage to the flag, finishing ahead of Daniel Zampieri and Coletti, who grabbed third from Aleshin on the last-but-one lap. Lancaster finished seventh and Mansell 14th.
Guerrieri said: "It was a really tough race, you had to stay totally focussed. I was happy, and when they announced that 10 cars had to make a drive through, I pushed it to the limit. I was surprised, but I was happy to see the P1 pit-board. It's great news for ISR, we're a new team and we really deserve this win."