A last-gasp effort by Ryan Briscoe cost Justin Wilson pole position as the Indy Racing League returned to road-course racing at Watkins Glen after weeks of endless ovals.
The different type of challenged offered by the Camping World Grand Prix at The Glen was expected to suit teams transitioning from the old Champ Car World Series, but in the end only Wilson and Oriol Servia broke into the top 10.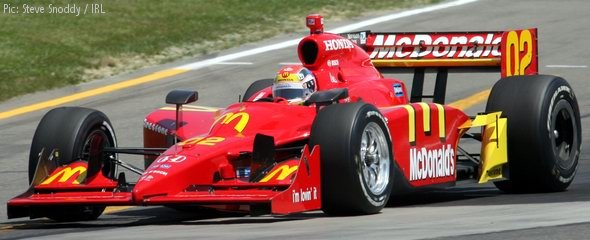 "I think the team's done a fantastic job," said the Newman / Haas / Lanigan driver. "I'm just very excited at being able to challenge for the pole position."
The pair took part in the final top-six shootout alongside promising youngster Ryan Hunter-Reay and a sole representative of each of the dominant three teams from before the merger – Briscoe for Team Penske, Scott Dixon for Target Chip Ganassi and Tony Kanaan for Andretti Green.
Helio Castroneves, who had taken pole for each of the last three years, will start last after breaking down on the circuit. "I asked some fans out there if they had a screwdriver and they were very helpful," he said. "The thing is I'm a good driver; not a good mechanic. I couldn't even get the engine cover off."
Behind Briscoe and Wilson, the second row will be filled by Hunter-Reay and Dixon, with Servia and Kanaan on row three.
Marco Andretti took seventh, and behind him were a pair of Brits. Darren Manning qualified a season-best eighth and Dan Wheldon a disappointing ninth. Jay Howard, making his return to Roth Racing after an enforced five-race sabbatical, will start 24th of 26 (the missing 27th car is his boss, Marty Roth).
Briscoe said: "It came down to the last lap. The team was telling me on the radio how we were progressing through the lap – all of the sudden they said, 'You're P2. P1 is a 1:29:38.' I knew I had to pull it all together.
"It was a great last lap, and it's great to be on the front row with Justin Wilson. After seeing how this race can play out, it's a big help to start on the pole."
Wilson, working to a pre-arranged fuel strategy, ended his qualifying with about 90 seconds of the session left and was in the pits, about to give an interview, when he saw Briscoe beat his time.
He said: "To come back in the pits, get out of the car, see the timing, go from first to second by a couple of hundredths, that's quite frustrating.
"But at the same time, I'm very pleased with the performance we had in qualifying and we had this weekend, considering we came straight to this track completely blind. We haven't tested here. We haven't done any running. We still haven't tested on a road course.
"My car was working really well. There was a couple of times on the last lap where I knew I had to pull something out. I think three times I thought I'd put it in the wall. But fortunately the McDonald's car was gripping well, hanging on. I was just able to get back on the power. Closed my eyes on a few of the exits."
Foyt Enterprises' Darren Manning put his dismal Iowa race further behind him with the sort of performance his team had been looking for. He said: "We went from 20th in practice this morning to eighth this afternoon, so I'll take that.
"We made some good improvements and even went back to some stuff we ran yesterday. We risked a big change between the sessions, and the car was better again, but I just needed another run on new tires, and I think we would have had enough for the top six but the full-course yellow took away that opportunity.
"We're understanding the car more, so that is the most important thing we gained."
Not so good for Dan Wheldon, who qualified five places behind team-mate Scott Dixon: "I think compared to Scott my speeds through the middle of the corner were up, but it was costing me on the exit. I was losing a little bit of time in the bus stop.
"The car has been really competitve and very consistent all weekend, but perhaps didn't get the most out of it during qualifying. It was just a little bit off. Everything is so close now that it probably cost me."