As far the eye could see there were cars, with seemingly every fourth one a Lotus – Elans, Eclats, Esprits, Elites, and so many Elises and Exiges they were barely worth remarking on.
Unfortunately, this wasn't Snetterton and the Classic Team Lotus Festival. This was the two-hour traffic jam on the A11 leading to the event.
Take Norfolk's major motorsports venue and use it to stage a gathering of the county's own sportscar marque's owners and fans. Mix in a dusting of Formula One glamour in the shape of the local team's current car and drivers, plus all its historic race machines. What do you get?
A far bigger turnout than the organisers imagined, if the traffic controller on the main gate was to be believed when he said "it's mad – this is the busiest we've ever been".
Inside, British Racing Green was definitely the colour to be seen in. One fan in a white, black and acid yellow Brawn GP cap looked as out-of-place as an invader from outer space.
The traditional shade of green was on clothing, on posters, on banners over marquees and tents and – of course – on cars, from the Type 12 that contested the team's first Grand Prix at Monaco in 1958 to the Type 127 running in this year's F1 campaign.
What had begun as an attempt to gather three Jim Clark classics together mushroomed until it became a show featuring examples of just about everything raceworthy the team had ever produced, with the current Formula One team finding a loophole in the stringent testing regulations that allowed it to perform shakedown laps for the fans.
F1 drivers Jarno Trulli, Heikki Kovalainen and Fairuz Fauzy also drove laps in the classic cars, signed autographs, answered questions and met competition-winning youngsters.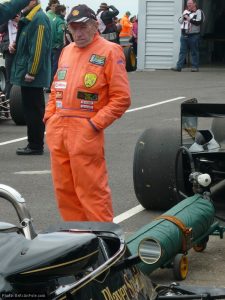 The historic race cars were gathered on the track for a photocall, then wheeled into position for a parade as a tribute to Clark. Classic Team Lotus director Clive Chapman, the son of Lotus founder Colin, told local paper the Eastern Daily Press that it was fantastic to see old and new cars together.
He said: "We cannot expect everyone to remember them, but it is important to remember that so many of these cars changed F1. Whenever they were unveiled, it was a landmark. More than half of the Team Lotus cars turned F1 on its head."
But the day was not just about demonstrations as seven races were scheduled for the Sunday, along with eight the day before, in series such as the Lotus Cup Europe, the Elise Trophy and the Heritage Grand Touring Car Challenge.
Photo gallery