Imagine this: instead of watching the British Grand Prix from the safety of your sofa at home, or sat in the Silverstone grandstands with ear protectors and a bacon sarnie, you're suddenly transported to the pitlane, strapped into a powerful F1 car, and told 'off you go'.
Reckon you could cope?
Top Gear fans will remember the meal Richard Hammond made of his first few minutes in one of Renault's race cars – and he had a background in driving high performance cars to help him make the step up in power.
[youtube:http://www.youtube.com/watch?v=Jq-9RPk0z5Q]
Rob Tarlton, on the other hand, is a 21-year-old aeronautical engineering student at the University of Illinois, a participant in the US side of Formula Student, and an ordinary F1 fan like millions watching on TV.
He's also the first driver since Scott Speed to stick the Stars and Stripes to the side of a Formula One car and head out to tackle Silverstone's historic corners.
And he did just fine.
Tarlton was one of a dozen hopefuls from 10 nations who beat 15,000 other entrants to set the fastest times on the internet-based test track created by Williams F1 sponsors Philips as the first stage in their Driving Academy competition.
The winners, who also included Rob's twin brother Tom, were flown from around the world by Philips to take part in a tough assessment programme aimed at finding which of them could best handle the speed and power of an F1 car at Silverstone.
[youtube:http://www.youtube.com/watch?v=V91i2GlWGN0]
A day at Palmer Sport saw the 12 tested and tutored in a range of sports cars and open-wheel racers as experienced instructors narrowed them down to the three best drivers. Those three went through to an in-depth training day at the Williams F1 factory.
Head-to-head shoot-outs in the team's F1 simulator, as used by its drivers to prepare for races, and the experienced eye of technical director Sam Michael eventually selected Tarlton as the winner.
And, on a bright November day that clouded up ominously as the morning progressed, he went to Silverstone to claim his prize: five laps of the National circuit in a Williams FW29, the last breed of Formula One car to feature traction control.
All of the top three contestants got the chance to lap the circuit in a Lotus Exige with Williams driver Kazuki Nakajima beside them as coach. For the top two, that acted as preparation for more laps, this time in a Raikkonen Robertson Formula Three car with former BRDC Young Driver Award shortlistee and Williams tester Jonathan Kennard on hand to provide advice.
For the runner-up, that was the high point of his day. For Tarlton, the 15 laps in the white and pale blue Philips-branded machine was just the warm-up to the main event.
After his first he returned for a swift debrief in the garage with Kennard – himself an ex-Raikkonen Robertson F3 driver – and that team's engineers.
Kennard had previously been out in the F3 car to set some fairly restrained benchmark laps, providing data so that Tarlton would be able to compare his performance in the different parts of the circuit and understand what areas were ripe for improvement.
All the stats were presented as a series of graphs on a laptop at the back of the garage that allowed him to see instantly how he had fared. Areas earmarked for improvement were the timing of gear changes, on which he was instructed to be more positive, later braking and having the confidence to carry a little more speed through the corners.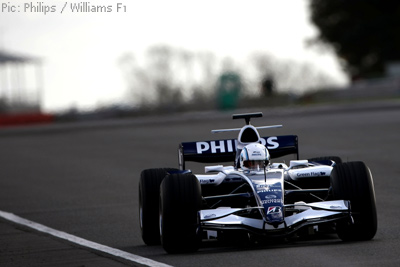 The graphs show a characteristic shape when a driver is approaching optimum performance and Tarlton was able to see how his lap data differed from Kennard's as well as getting advice on how to minimise the differences.
And the 21-year-old – chosen as winner after demonstrating the greatest ability to respond to advice and coaching – learned from the data. By the time he had finished his stint in the F3 car he was lapping almost as fast as Kennard had done.
And then, with a previously clear blue sky rapidly clouding up, it was suddenly time for him to drive the F1 car.
Nakajima said: "We went out with him in the Lotus car and I just told him the way of driving it. He had a good feel for the car although he struggled a little bit with the shifting – but that's going to be much easier in the F1 car so I'm sure he will be fine.
"The speed difference between the F3 car, the Lotus and the F1 car will be massive, so that will be a big challenge. Nerves can be an issue and when you get nervous you just lose control of the brain.
"There is a lot of stuff you have to go through before you start driving, but I'm sure we can help him. He gets such a short time, my advice to him is just enjoy it."
Tarlton said: "Driving the Formula 3 car was an amazing experience – it really goes fast and grips well. I am excited to see what the Formula One car is like. As far as pressure goes, I actually feel less pressure now because the competition is over. Now it's just a matter of enjoying the ride and being safe."
A pitlane full of Williams and Raikkonen Robertson crew, sponsors' staff, media, the unsuccessful finalists, and some passing visitors from a Nissan experience day watched him venture out onto the empty track.
Less than a minute later he was screaming down the pit straight, first lap complete, while the Williams support team nodded approvingly at each other to see how quickly he had come up to speed as we all listened to the sound of him roaring round the national circuit in less than a minute per lap.
[youtube:http://www.youtube.com/watch?v=bWeM0wdtqLo]
And all too soon afterwards he was pulling up in the garage again, job done, to be greeted with a round of applause and a congratulatory handshake from Nakajima.
"It's a dream come true and a hell of a lot of fun," he said afterwards. "To drive the car was an incredible experience. I never imagined that I would be over here in the UK driving a Formula One car. Certainly beats doing homework.
"Being able to come out and drive one of these high-performance cars is a dream come true. I never would have thought that, going down the path that I have career-wise, I would ever have a chance to sit in one of these cars and take a couple laps round the track. To drive the simulator was a great experience, but to actually come here and sit in one of these race cars is just amazing."
Of all the aspects of driving the F1 car, it was the physical extremes that stood out most for him: "The most impressive thing was the acceleration. You could be going at well over 100 mph, hit the gas and accelerate as if you were going from a stop. The car continues to accelerate past the top speed of most average cars. The brakes as well, they give you confidence in going fast.
[youtube:http://www.youtube.com/watch?v=H-QnA4r8u30]
"The grip was incredible. Coming through the exit there, I was working hard to keep my head off the headrest. It is demanding. I couldn't imagine going through a full race duration with those forces on your head, just going through turn one was enough. It took a lot of effort just to hold it – I can't imagine doing the whole circuit over the course of a couple of hours, or driving that car on a full-sized course."
And with that done, it was time to team up with his fellow finallists for group photos, champagne on the podium, and lunch in the BRDC clubhouse – where you could take turns racing a giant Scalextric set, Williams against McLaren, as a way of coming back down to the real world where Formula One is something only experienced in games and on TV.
Except, for one native Chicagoan, the real world is now a bit different from how it looks to the rest of us.