Liverpool's championship-winning Superleague Formula car has been put through its paces by driver James Walker in a demonstration along the city's Strand waterfront.
An estimated 20,000 people turned out to watch the event, which was staged to promote the forthcoming Cholmondeley Pageant of Power on 17-18 July.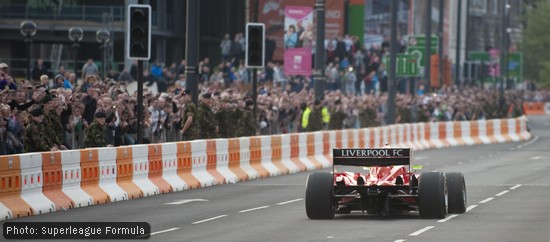 Walker's runs in the 750bhp V12 Superleague car were the opening attraction, and were followed by dozens of other vehicles including a Bentley 24 Hours of Le Mans winner, a Bugatti Veyron, a 1929 Bentley Napier, and an Audi Quattro.
According to a Superleague statement: "Walker and his Liverpool car proved one of the highlights of the evening with the 26-year-old laying down thick black tyre marks along the street course with successive burnouts, before disappearing into a cloud of white smoke thanks to a series of crowd-pleasing pirouettes."
[youtube:http://www.youtube.com/watch?v=70OdD_998Dc]
Walker, who hails from Jersey and is defending the Superleague Formula title won last season for the Reds by Adrian Valles, said: "It was a bit of rush to get the car back from Magny-Cours at the weekend but I'm glad we managed to because it was fantastic.
"We did two runs along the waterside which was similar to the event in Assen town centre a couple of weeks back, so although it was unusual to be driving alongside a river, I had some experience to draw on.
"I think a lot more people turned up than the organisers were expecting, the place was rammed."
As well as the cars, the nearby docks saw powerboats and jet skis, there was wing walking and a helicopter aerobatics display, and finally a Challenger Two tank.
The Cholmondeley Pageant of Power was founded in 2007 at Cholmondeley Castle and aims to showcase the best of historic and contemporary automotive power, whether on land, sea or air.
This year it will pay tribute to the late Tom Wheatcroft by displaying some of the finest cars fromhis Donington Collection, including the Vanwalls and Thinwalls.