One of the worst-kept secrets in motorsport was finally made public today when Superleague Formula, the football-themed racing championship entering its third season, confirmed Craig Dolby will return to drive for Tottenham Hotspur.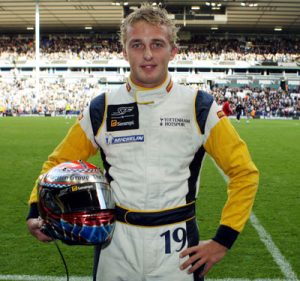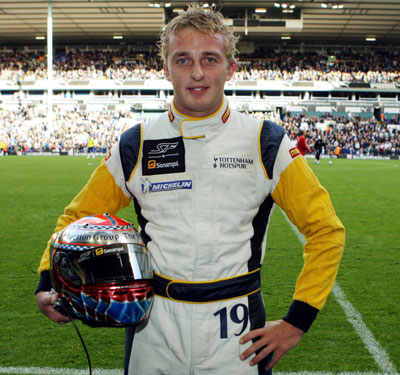 The 21-year-old from Melton Mowbray will start as one of the favourites for the title after impressing during his debut season for Anderlecht then finishing runner-up last year for Spurs.
He took the championship to the final race weekend but, despite earning a second and a fourth in the final outings, could not overhaul Liverpool's Adrian Valles.
This year Liverpool will be represented by Jersey's ex-Formula Renault 3.5 driver James Walker, who has a Superleague race victory under his belt from the series' debut season.
Dolby said: "I know James well and he's a very strong driver to race against. It's great that the championship starts at Silverstone too so the support should be unbelievable with two British drivers competing for two Premiership clubs. I'll certainly be going out there to put on a show for everyone and push my hardest."
While none of last season's ex-Formula One drivers – Sebastien Bourdais, Giorgio Pantano, Antonio Pizzonia and Enrique Bernoldi – are yet listed as returning to the series, with six vacancies left the line-up is already confirmed as including Narain Karthikeyan, Robert Doornbos and Franck Montagny, along with the 2008 champion Davide Rigon.
Despite the quality of opposition being attracted by the large cash prizes on offer to teams and drivers, Dolby is not intimidated: "There's no question that I'm aiming to go one better and win the title this season. I've only got the top step in mind. It's going to be tough as some great drivers have been signed which is fantastic not only for the championship but also myself, as it gives me the chance to go up against them and hopefully come out somewhere near the top.
"I've been training hard throughout the winter which has made me fitter and lighter than I was last year. I'm also mentally stronger thanks to the confidence gained last year which I'll carry over into the new season.
"I also know the team. Magny-Cours at the start of last season was the first time I'd raced with Alan Docking Racing, so with a year now under our belts together, we'll hopefully come out stronger at the start and emulate what Adrian and Liverpool did, which was rack up lots of points early on."
Although Dolby's participation has only just been confirmed, he was widely expected to be re-hired ever since the close of last season when it became clear the series was promoting him as an up-and-coming star thanks to his fearless overtaking.
He said: "I can't wait for the season to start. I said at the end of 2009 that if I got the chance to come back again, 2010 had the makings of a fantastic year for myself and Spurs. I am grateful that Alan Docking stuck by me over the winter and wanted to keep me in his team. The same goes for Tottenham actually, which is a great endorsement."
A Tottenham spokesman said the team was hopeful Dolby could deliver them more silverware: "We are absolutely delighted to have retained Craig Dolby as our driver for the Tottenham Hotspur Superleague Formula car for the forthcoming season.
"He did fantastically well to secure the runner up place last year and showed himself to be one of the most exciting drivers in the series. Building on last year's success we hope Craig, with the support of Alan Docking Racing, will have a real chance of winning the Championship this time round."