Tottenham Hotspur's Craig Dolby has once again extended his lead at the top of the Superleague standings despite a weekend at Magny-Cours dominated by AC Milan's Yelmer Buurman.
[youtube:v=OQItUMnnfC8]
The Dutch driver took a victory in race one of the championship's third round and followed it up with a Super Final win and a cheque for €100,000. Race two was won by FC Basel's Max Wissel.
Dolby was outmanoeuvred in the early stages of the first contest despite starting from pole, and took a second and then a fourth place over the weekend, as well as scoring sixth in the Super Final.
This boosted his season's points haul to 250 with Buurman close on his heels with 196. A Superleague win nets a driver 50 points.
Race one: Burmaan grabs lead from Dolby to seal victory
In the first race Buurman controlled the race practically from lights to flag after qualifying on the front row then passing Dolby on lap 3 by diving down the inside at the hairpin. By his pit stop he had increased his advantage to five seconds.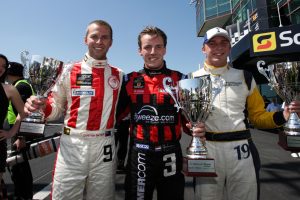 Dolby tried to respond on fresh tyres after his stop by setting a string of quick times but Buurman was equal to the challenge. He posted a fastest lap of 1:26.722, half a second faster than his nearest rival, on his way to a victory of nearly 13 seconds.
Series rookie Chris van der Drift finished third for Olympiacos after jumping Beijing Guoan's John Martin during the pit stops. James Walker in the Liverpool car was sixth behind FC Porto's Alvaro Parente, fighting to pass him but running out of push-to-pass boosts in the dying minutes.
Dolby said of his race: "The first couple of laps were really good but then the car started to feel a bit strange. I tried to push hard but Yelmer was just too quick and his car too good.
"You can't take anything away from him, because he drove a very good race, but there's definitely something strange on our car so we'll make sure the second race is better.
"We'll have a fast race car, that's for sure. As always, you can expect plenty of overtaking!"
Race two: Wissel triumphs over widespread adversity
Wissel, who had been punted out of the first event by van der Drift, started from pole position on the reversed grid then built himself a near 10-second lead in the opening six laps.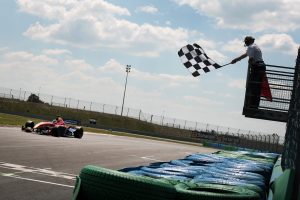 But then a three-car accident triggered a safety car period that wiped out his advantage and led to a chaotic few minutes after Lyon's Sebastien Bourdais slipped up at the Adelaide hairpin and took compatriots Franck Perera of Flamengo and Franck Montagny of Bordeaux with him
However the safety car picked up the second-placed Atletico Madrid car of Maria de Villota instead of Wissel, leading to him sitting at the back of the field with almost a full lap on the other drivers.
The next development was the opening of the pitstop window, causing every driver but Wissel to dive in, leaving him alone behind the safety car. In the pitlane drivers had to wait to reach their box with AC Milan and Liverpool among those to lose out.
By the time Wissel made his stop and the race settled down, he had a comfortable 15-second lead over all his rivals, and was never again threatened as he cruised to a victory of more than 20 seconds.
AC Milan's Julien Jousse took second place while RSC Anderlecht's Davide Rigon, a double winner in the previous round, took third. Dolby finished fourth, having started on the back row, making up six places on the first lap alone.
The only other finishers were Buurman and Walker, both of whom lost a whole lap after being stacked behind other cars in the busy pit lane.
Super Final: Buurman seals the deal
Buurman started the five-lap dash-for-cash from second on the grid, but got straight past pole-sitter Dolby for the second time this weekend to take the win.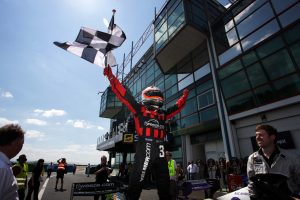 Dolby made a poor getaway and was down to fourth by the end of the opening lap as Rigon and Wissel followed Buurman through, thus determining the final podium order.
Jousse grabbed fourth from Walker on the last lap with Dolby ended the race in sixth. However, he was said to be delighted that another strong weekend had seen him extend Spurs' lead in the league table. Walker's Liverpool FC car ended the weekend in tenth.
Round four of the 2010 Superleague Formula season is due to take place at Jarama in Spain on June 19-20.
• To see the Superleague standings in full, and for details of all other aspects of the series, visit its website here.