John Surtees has said he hopes his son's death will not be in vain and that safety lessons will be learned from the accident that killed him.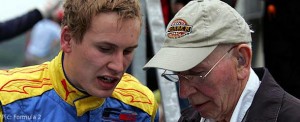 And the former Formula One and motorcycling world champion has revealed that he is considering setting up a foundation in his son's memory, as well as supporting the brain injury charity Headway.
Henry, 18, who had just completed his A Levels, was racing in a Formula Two event at Brands Hatch on July 19 when a wheel from a fellow competitor's car became detatched and struck his head with terrifying force.
The accident, combined with an uncannily similar incident that critically injured Ferrari Formula One driver Felipe Massa a week later, has led to a debate over the safety features of open versus closed cockpits in racing cars.
Mr Surtees, 75, told the BBC: "There are things to be learnt. So we have got to make certain that his death isn't in vain. There will be progress – this is the way that motorsport and competitive people are."
He described the accident as a freak and the fact that a similar occurrence narrowly missed killing Massa a week later as "a freakish coincidence." He said he had spoken to the driver following his release from intensive care, as well as F1 promoter Bernie Ecclestone.
He added: "It wasn't until the larger money came into motorsport that you got the safety levels you have today. Motor racing compared to other things is so very safe, that is the irony of it."
Read the full interview here >>
The Surtees family asked at Henry's funeral for charitable donations in lieu of flowers to be made to Headway, a charity that supports people affected by brain injuries.
As its website says, it relies on voluntary donations to continue to provide vital services to brain injury survivors and their families and, as more people now survive accidents and live with brain injury, the need for its work is growing.
It adds that gifts will be used to extend its work, from producing specialist publications, establishing new local support groups to organising training workshops for social care professionals, Headway staff and volunteers.
To make a donation to the charity, visit its website here >>