So there we were, sat high up in the grandstands at the Rockingham Motor Speedway in Northamptonshire, watching touring cars whizzing round part of the banking and onto the infield section, thinking to ourselves 'we want to see this oval used properly'. Champ Car came to the UK – isn't it about time the IndyCar Series followed?

In October last year 90,000 people filled the home of Association Football – soccer, if you must – and five times that many people registered for tickets in order to watch Wembley Stadium stage something completely different.
American football, with all its vigorous brashness, had invaded the home of the beautiful game to hold a regular season match between New England and Tampa Bay. It wasn't the first time, and it won't be the last – the 49ers and Broncos are on their way in October.
Probably sensibly, thoughts of bringing a team to London full-time or staging the Superbowl here remain nothing but thoughts – however, the NFL has shown that American sport, properly promoted, can stage huge one-off events in the UK.
So our question is, if American Football can cross the Atlantic, then why not IndyCar?
Would it cost too much?
The first question is cost. It is clearly going to be quite an undertaking to fly over the teams and their equipment.
But, as has been pointed out about American football, squads need to fly all over America already. For a west coast team to play on the east coast is not all that different from an east coast team flying to the UK.
And it's not like US open-wheel racing doesn't get about. Japan, Australia, Brazil, Belgium, the Netherlands – and the UK in 2001-2 when Gil de Ferran (see the video clip, right) and Dario Franchitti both won races here.
There must also be some synergy available when numbers of teams, drivers and need to get to the same place.
Come back, guys. It's been too long.
Who will watch it?
Is there an audience? Well, there should be. It's getting increasingly difficult to see high-spec open-wheel racing over here.
This is not to detract from the junior formulas which are entertaining and well worth catching. But if you want to watch the grown-ups race then your choices have diminished a bit.
The future of F1's British Grand Prix should now finally be secure for the next 10 years. But it happens once a year and ticket prices are so high that you may need to consider selling organs to pay for admission. It's a testament to the passion of audiences over here that it will probably still sell out.
A1GP has gone bust and, while Superleague Formula and Formula Two are each staging two British rounds this season, neither are fully on fans' radar yet – with the result than both are probably watched by about 25 people per race who aren't already involved in some way.
So an extra event would be really welcome.
All those British drivers…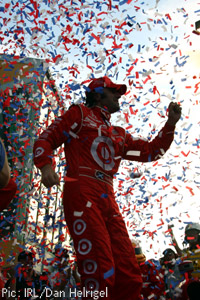 If the Indy Racing League can't leverage British drivers such as Dario Franchitti (the reigning champion), Justin Wilson, Dan Wheldon, Mike Conway, Jay Howard and Alex Lloyd and its Indy Lights competitiors Martin Plowman, Pippa Mann, James Winslow, Stefan Wilson and Dan Clarke into some significant bums on seats then something is badly wrong. Their friends and family alone should fill a stand, even if two of them are siblings.
You can see why Brits on Pole likes to follow these two series, by the way. They offer such good odds on exactly that – a Brit on Pole. We get more mileage out of them for the site than we do from British F3.
All we need now is to be allowed to see them race live.
We guarantee that UK fans will be pleasantly surprised by the lengths the IndyCar Series goes to in giving them value for money, making the drivers accessible and letting them see as much behind the scenes is as feasible. Our British Touring Car Championship does something similar and both F2 and Superleague are trying but, in general, it's as rare as hens' teeth in European open-wheel racing.
It's also worth considering that the UK has a big expat population and a few US air bases still – they are one of the things that supported grassroots American football in this country for years, providing venues, coaches and referees and often (let's be completely honest here) the only decent players on the field too. That's another potential source of viewers.
Where would we put it?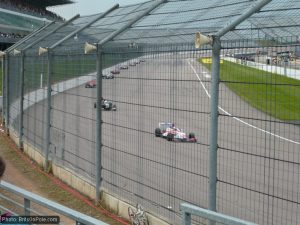 So, where should the race be held? Well, first up, it's important to clarify for American readers that all British circuits really aren't equal. We recall being asked, when Donington's F1 bid was crumbling, whether Castle Combe was a viable alternative for the British Grand Prix. Great circuit though it is, it's not.
Although we have quite a few venues, not many of them could stage an event on this scale, usually due to legal restrictions on the number and loudness of races they can operate, their capacity or the extent of their run-off areas.
Compared to the US, we're packed together quite densely on this little island, and too many race tracks are within earshot of people's homes. This causes a lot of bad feeling and leads to interventions from local government officials which in turn annoys the race fans.
Despite this problem, Silverstone is clearly up to anything that can be thrown at it, and Brands Hatch – venue of the 2003 London Champ Car Trophy – has managed to stage both A1GP and the V12 noise-monsters of Superleague despite its planning restrictions. Donington Park was among the aristocracy of British race tracks, at least as far as the circuit was concerned, but it is out of action for the foreseeable future.
And, get this, we can't have a street race in the UK without an actual Act of Parliament to temporarily suspend the Road Traffic act – ridiculous, isn't it? And that's not something that's going to happen easily.
This is something our motorsport governing body is currently campaigning on but it pretty much does for that option for the moment.
Embracing oval racing
To our minds there's one outstanding venue that should be hosting an IndyCar race in Britain, and that's the same one that hosted it twice before. We want to see IndyCars on the full oval at the Rockingham Motor Speedway, where Tony Kanaan still holds the lap record.
No messing about with road courses or street courses. If IndyCars are going to come, let's do this in style.
It must be obvious that we are really not among those people that don't like oval racing. If you don't get it then you're simply not trying hard enough.
Watching single-seaters going wheel to wheel three abreast on a banked track is more excitement than anyone should be able to handle without a sit down and a nice cup of tea. Oh, alright then. A chocolate digestive if you absolutely insist.
This is not NASCAR and this is emphatically not boring. You just need to get your eye in and then you will be mourning all the wasted years of your life when you dismissed oval racing as not worth watching.
Is it a pipe dream?
So, is this feasible or a pipe dream? Frankly, we're fans with a wish list. We don't know whether it would be economic to bring the circus to town or, once it was here, get round any impeding bureaucracy and fill a venue like Rockingham with paying customers.
But, IRL, we'd just like you to know this: we really hope it is possible, and that some day you might pay us another visit. That's what we're really saying.