The former F1 champion and Indy500 winner Jim Clark has been honoured in a ceremony at the Miller Motorsports Park in Tooele Valley, Utah.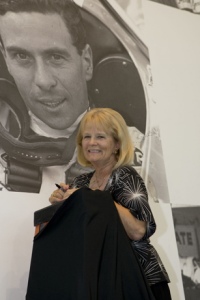 The venue has a 'wall of legends' in its banqueting suite and a tradition has grown up where the giant portraits are autographed either by the drivers themselves or their loved ones.
During the recent Zions Bank Heroes of Speed weekend a dinner was held at the suite for members and drivers of Historic Sportscar Racing Ltd, whose west coast president Ed Swart is married to Clark's former fiancee Sally Stokes-Swart.
She took the opportunity to sign the portrait of Clark, who died in 1968 racing for Lotus at Hockenheim.
"I'm very honoured by the invitation to sign Jimmy's picture," she said. "I think he would be very pleased because it makes the connection over the ages. As motor racing friends, we're quite a small family but we seem to kind of meet each other over the decades and over the continents. It's very nice."
Miller Motorsports Park chief executive Alan Wilson said: "As a young racing fan in South Africa, I always used to see Sally Stokes in the background of photos taken of Jimmy Clark throughout his career. I finally got to meet her last year, and it's great that she could be here this year and sign his photo on the Legends Wall."