He may be 6'3 in his socks, but when Justin Wilson visited a kids' basketball camp this week he proved to everyone's satisfaction that he'd made the right career choice by picking driving over shooting hoops.
The Newman/Haas/Lanigan driver demonstrated a marked lack of success in both free throws and playing defence while on a promotional visit to a youth camp in Richmond run by the local university basketball coach.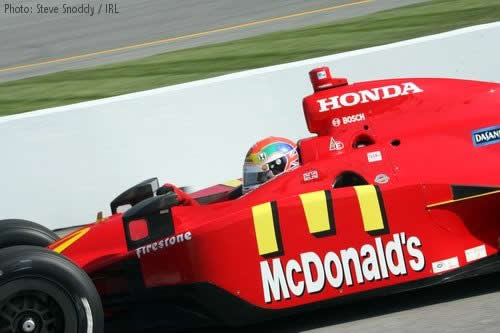 He and team-mate Graham Rahal (one inch shorter and no more skilled at free throws) are expecting better fortune on Sunday at the Richmond International Raceway, even though neither have competed over the three-quarter mile oval before.
Wilson said: "I'm looking forward to driving on yet another new track. Even on a track like Iowa, where we didn't expect to be able to pass, we moved forward and that's encouraging.
"It is supposed to be similar to Iowa but tighter and faster so it's going to be a tough race. We ran well most of the race in Iowa so the McDonald's team is hoping for similar competitiveness at Richmond. I'm looking forward to the challenge."
Wilson started the Iowa race from 20th, but went on to run as high as seventh before his car lost competitiveness late in the race and he slipped back to 12th.
His starting position in that race was decided by his championship position, as qualifying was rained off. But he feels low starting positions are a problem he needs to work on: "Quite often this year we have not done so well in qualifying but in the race the McDonald's car is really good and we can pass people.
"I think that if we give ourselves a chance to start further forward we can get in there and start mixing it up. Right now we will just keep learning and keep progressing."
Learning and progressing on the track, of course – based on his visit to the youth camp, on the basketball court it's far too late to catch up after a childhood spent playing cricket and football.
Both drivers talked to the 140+ campers about their careers and what it's like to drive in the IndyCar series, and Wilson helped the youngsters on an IndyCar Series simulator while Rahal joined in a game.
They also tried a few exercises, with less success – both missed all their attempts at free throws while Wilson was left standing when he attempted to play defence on one of the youths.
"One kid ran circles around me. They taught us how to shoot some hoops, but I think I need to work on that a bit," Wilson said.
"It was fun and it was great to play basketball with the kids to see all the up and coming basketball stars. Many of them are very serious about committing themselves to the game which builds great character."
The 19-year-old Rahal added: "It takes me back to my days as a kid because I used to do this stuff all the time. It certainly does make me want to go home and shoot hoops."