There were two ways AJ Foyt could have reacted to Darren Manning's second place at Watkins Glen – pleasure at the podium, or disgust at the under-fire Yorkshireman's failure to hold on for the win.
Happily for Manning, the team boss and veteran racer seems a pretty satisfied man.
"There were a lot of happy people in our pits. And even though I'm not a good loser, I was happy too," he wrote on the AJ Foyt Racing website. "I was very proud of Darren and my team. All in all, they did a great job."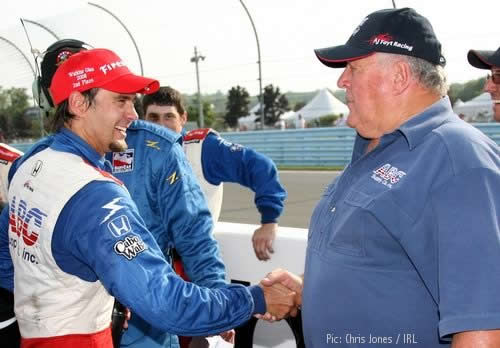 He gave the credit for the success in the Camping World Grand Prix at the Glen jointly to his driver and crew: "I think Darren Manning drove one of his best races since he began driving the No. 14 ABC Supply car for me last year. I was really happy to see him come away with his career-best finish because, unlike some of his peers, he drove a smart race.
"Finishing second was a big morale booster for our team too – our guys did a great job in preparing the car."
The turn-around from Iowa a fortnight ago, when Manning's job was under threat after a premature race retirement and Foyt was demanding immediate improvement, could not be more marked.
In the aftermath, Foyt's son Larry chose his words carefully to avoid confirming Manning would see the season out with the team. After the Watkins Glen podium, Foyt was able to dismiss Dan Wheldon's sideswipe at his fellow Englishman after they had clashed wheels early in the race.
Wheldon had said: "We were talking about professionalism in the last race and you can see why AJ Foyt is going to fire him." Foyt retorted: "Darren got a big black donut right smack on the ABC Supply logo on his sidepod from Wheldon's tire but it was a racing accident whether or not Wheldon thinks so."
After the clash with Wheldon, smart fuel strategy and a fortuitously-timed yellow flag period put Manning at the front of the field with a great chance of a win. Playing it safe at a restart on a treacherous section of track, he was unable to stop Ryan Hunter-Reay seizing the lead – and his attempt to re-take the place ended when he decided the risk of taking both cars out of the race was too great.
When a later yellow flag, and a later restart, gave Manning a shot at returning the favour to Hunter-Reay the young Texan had obviously learned from the experience and was off down the road before the Englishman could get a jump on him.
Foyt wrote: "When Scott Dixon spun, taking out Ryan Briscoe, the whole race changed for us. We had a legitimate shot to win. I was a little disappointed that Ryan Hunter-Reay got us on that restart and I know Darren was mad at himself too.
"He was worried about the dirt on the track from the Dixon incident and decided to restart after that point. And, he may have been thinking that he didn't want to do the same thing that Dixon did – get on it hard and spin out.
"Hunter-Reay got a great run and got by us heading into turn one. When they came to the Bus Stop corners, Darren definitely had to slide in behind him. Of course, as the leader now, Hunter-Reay wasn't about to be snookered on the next restart so he got a helluva jump."
Manning said after the race: "I thought 'OK, my turn to get him back.' And AJ was screaming in my ears, 'Don't let him do that again. Get him back.' But I tried and he learned from my mistakes and went really early, the bugger – I had words with him. But he had a quick car, and pulled away."
Earlier in the race, Manning had faced the tricky task of re-attaching his radio plug to his helmet while racing at full speed. The first anyone in the team knew that it had come unattached was when he sat in place after his lap 19 pit stop, waiting for the shout to pull away, unable to hear Foyt's "go".
Foyt wrote: "When Darren figured out what was wrong, he spent the next four laps reattaching the plug to the left side of his helmet – all under green flag racing. He said the hardest part – after fishing for it around the belts – was getting the tape off, which he did on the long straightaway by holding the plug and steering wheel with one hand and removing the tape with the other… all with gloves on."
All in all, the team goes to Saturday night's race at Nashville in good spirits. "Last year the race went pretty smoothly for everyone-meaning very few yellows. We came away with a top-10 finish at a place where we haven't had the best of luck," said Foyt.
Manning added: "Nashville is a tough track to get handling on so knowledge of the track is invaluable – I think that will work to our advantage this weekend. We have to be aware of the guys who are struggling and steer clear of them.
"Like at Richmond, some of these guys don't think about getting to the last pit stop and racing hard from there, consequently, they never make it to the last pit stop. That way of racing is completely alien to me. You need to have patience."
Having a podium under your belt doesn't hurt, either.