The parades, the talk show guest spots and the PR photo opportunities are done and the month-long build up to the 93rd Indianapolis 500 is almost over – but who will triumph when the race begins tomorrow?
As usual the field consists of 33 drivers, ranging from past race-winners and grizzled veterans on the top side of their 40th birthdays, to callow youths with little oval experience – or with victories under their belt already.
The 'big three' teams of Target Chip Ganassi Racing, Team Penske, and Andretti Green Racing have locked out most of the top places in the starting line-up, but former Champ Car teams Newman Haas Lanigan and KV Racing are doing their best to gatecrash the party.
Pre-race favourites like Helio Castroneves and Scott Dixon qualified at or near the front, but rivals such as Dan Wheldon, Robert Doornbos and Paul Tracy are out of position further back and will have to work their way through the field.
Five rookies will start the race, with current Indy Lights champion Raphael Matos best placed amongst them in 12th. There are also four former winners in the field – although 2002 runner-up Tracy maintains that, rightfully, he is a fifth.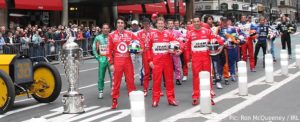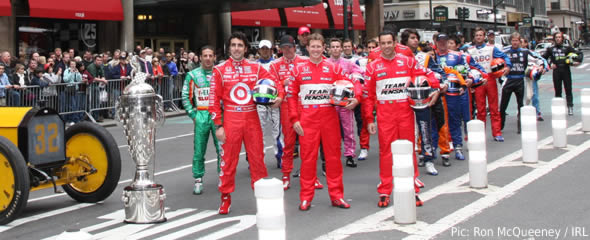 With most of the names unfamiliar to European race fans – even the most successful of the Brits could walk down the street unrecognised over here – we thought a guide to who's who would be useful. So here's our round-up of the favourites, the long-shots and the also-rans in tomorrow's race.
You can download a free spotter guide to the field, with driver photos and car colours/numbers, from the IRL site (it's a 5MB PDF file, so beware).
The contenders
Chances are, the winner will be one of these five drivers.
Helio Castroneves (qualified on pole)

The two-time past winner has some catching up to do in this year's standings after missing the first race of the season while defending himself (successfully) against tax evasion charges in a Florida court. The broad smile, charismatic personality and reality TV dancing championship all tend to disguise his ruthless determination to win a first IRL series title – a determination that can sometimes bring him into conflict with the authorities, as last year when he had to surrender a victory to Justin Wilson after being ruled to have blocked him.

Ryan Briscoe (qualified second)

Not the obvious choice for Team Penske's second seat, Briscoe was for a long time known best for a horrendous crash at the Chicagoland Speedway in 2005. Question marks hovered over his future early last season after a run of poor results – Danica Patrick had to be held back by track security from confronting him after he knocked them both out of the Indy 500 – but he hit his stride part-way through the year with two wins, three more podiums, and a victory in the non-points season ending race in his native Australia. A Briscoe victory on Sunday would surprise no-one.

Dario Franchitti (qualified third)

Scotland's Franchitti won both the series championship and the Indy 500 in 2007 and then went off to try his luck in NASCAR for 2008. An underwhelming year that included a broken foot ended prematurely when his team shut down due to lack of sponsorship and he returned to the IRL as team-mate to his successor as champion, Scott Dixon. After easing himself back into the IRL gently with a fourth place in the season opener at St Petersburg he won race two in Long Beach. His return to ovals at Kansas was less successful, crashing as he attempted to avoid another car.

Scott Dixon (qualified fifth)

The reigning series champion and winner of last year's Indy 500, Dixon made a slow start to the season that reminded watchers of the poor show he made of defending his last championship, during the 2004 season. But after poor races at St Petersburg and Long Beach, the New Zealander swept back to form with a victory at Kansas. Starting from the second row at Indy, he will nevertheless be near-impossible to beat if he can regain the metronomic efficiency with which he normally races and which earned him the nickname 'the Iceman'.

Tony Kanaan (qualified sixth)

Kanaan has raced at Indy seven times before and led every time – but he has never yet won the race. Last year he was in contention for the victory when a rash move by team-mate Marco Andretti sent him out of control and into the path of Sarah Fisher. This year, a fifth place and a pair of thirds have given him the lead of the championship, despite his team Andretti Green once again looking a step behind rivals Ganassi and Penske. Ominously, he was well off the pace in qualifying until assembling a 'Frankencar' made up of parts from his machine attached to most of Hideki Mutoh's spare.
The pretenders
While not among the favourites, with a fair wind and a bit of luck any of these drivers could be challenging for the win.
Graham Rahal (qualified fourth)

Rapidly usurping Marco Andretti's place as the great young hope of American open-wheel racing, Rahal is a proven winner whose impressive pace last year was marred by a tendency to find the wall at speed. Gutsy, quick and raised from good stock as the son of a former Indy 500 champion, he's a likely future winner – but this year is probably too soon for him.

Mario Moraes (qualified seventh)

Very much the surprise package of qualifying, Moraes showed flashes of skill last year on the road courses for Dale Coyne but was widely written off as a ride buyer when he switched to KV for this season. Two retirements and an 11th so far this year disguise a competitive pace that suggests he has the talent to back up his money.

Marco Andretti (qualified eighth)

The third generation of the Andretti dynasty was made to look rather ordinary driving for A1GP's Team USA this season and hasn't won a race since his rookie year in 2006. However, the Indianapolis Motor Speedway is one of his best circuits – he was just 0.0635 of a second from victory in '06 – and the question is surely when he'll win the 500, not if.

Will Power (qualified ninth)

Saved from the unemployment line by Team Penske as a stand-in for Helio Castroneves, the Brazilian's acquittal means that Power is heading straight back there after the 500. He needs a good result to prevent his career stalling, and Penske will certainly give him the equipment to get one. If he can avoid crashing it, a podium is more than possible.

Danica Patrick (qualified 10th)

Patrick is a very talented race driver who, unfortunately for her, doesn't quite have the talent to live up to all the hype that surrounds her. Having said that, Indianapolis is one of her stronger circuits and she's led the 500 before. With Michael Andretti as her race strategist, if the chance of a win exists she'll grab it.

Paul Tracy (qualified 13th)

Fiesty and combatative, the 40-year-old Tracy still believes he was the real winner of the 2002 Indy 500 and will not be letting his low starting position stop him planning for victory this year. He ran only one race last year, in front of his home Canadian crowd in Edmonton, and seized fourth place in it.

Dan Wheldon (qualified 18th)

Wheldon won the 2005 Indy 500 and IRL championship, and only lost the 2006 title on a tiebreak. Since then, however, his form has tailed off slightly and he unexpectedly left Ganassi at the end of last season for Panther. So far his new team hasn't given him the equipment to challenge for wins – but it did saddle last year's runner-up, Vitor Meira.
The long-shots
It would take quite an upset for one of these drivers to get their hands on the Borg-Warner Trophy – but if you like backing dark horses, here are the ones to try
Vitor Meira (qualified 14th)

A fan favourite with a number of career second-places under his belt but no wins, Meira produced one of the moves of the season to seize the lead in last year's Indy 500 but couldn't hold on for victory. Unceremoniously dumped by Panther when Dan Wheldon became available, he's now at Foyt – where he's unlikely to be given the car to repeat last year's feat.

Justin Wilson (qualified 15th)

If Wilson had the sponsorship to match his talent he'd still be driving Graham Rahal's car and be among the favourites to win. The Yorkshireman almost won the season opener for the underfunded Dale Coyne outfit and he may yet take a victory this season – but it won't be at Indy, where teams with tight budgets usually struggle.

Scott Sharp (qualified 20th)

No driver in IRL history has started more races or scored more top 10s than Sharp. He was series co-champion in 1996 and Indy 500 polesitter in 2001, but spent 2008 running successfully in sportscars. He said qualifying this year had been a bigger challenge than he expected – the race could be too.

Robert Doornbos (qualified 23rd)

The Dutchman missed the chance to qualify in the top 22 after trashing both his race car and his spare in practice – otherwise he'd likely be on row two or three and dreaming of a win. He'll need to develop more sensitive antennae quickly if he hopes to avoid the walls and fight his way through to a position more suited to his talent and his car.

Oriol Servia (qualified 25th)

The most successful of the refugees from Champ Car who joined the IRL last year, Servia has a good claim to be the most talented driver without a full-time ride this season. He's paired with Rahal Letterman, which couldn't afford to run full time this year. Both will have something to prove – don't be surprised to see Servia finish top 10.

Tomas Scheckter (qualified 26th)

Fast and competitive but prone to crashes and mechanical failures, Scheckter had trouble finding a ride for this year's race before he finally pitched up at Dale Coyne. He ran strongly last year before retiring with a broken driveshaft and is likely to feature prominently this year – if, possibly, only briefly.
Best of the rest
Not even their greatest fan expects any of these drivers to win – but don't be surprised if a few crack the top 10 (or even the lower podium steps) and grab a share of the headlines
Alex Lloyd (qualified 11th)

Currently in his second year as a Ganassi development driver, Lloyd's only open wheel race time since his 2007 Indy Lights title has been in the Indy 500, where he crashed last year. This year he's paired with his old Indy Lights boss, Sam Schmidt, and qualified impressively – but his lack of recent experience will likely tell over 200 laps.

Raphael Matos (qualified 12th)

The reigning Indy Lights champion moved seamlessly up through the junior ranks to a full-time IndyCar drive this year, but has found the going a bit tougher at the top level. His race pace has been good and his qualifying impressive, but he has only taken the chequered flag once so far this season.

Hideki Mutoh (qualified 16th)

Seventh place in last year's Indy 500 helped Mutoh to IRL Rookie of the Year honours, but so far this season he has failed to build on his promising start. The only one of the 10 drivers in the Andretti Green / Ganassi / Penske 'big three' teams not to qualify on the first day, he has a tough job ahead of him.

Ed Carpenter (qualified 17th)

A less-than-stellar racer whose career has not been harmed by being the son-in-law of IRL founder Tony George, Carpenter does nevertheless run near the front on merit from time to time. His long-term future may well be to take over as boss of George's Vision Racing team, but while he's still its driver he'll keep plugging away.

Sarah Fisher (qualified 21st)

Forget Danica – a Fisher victory would be the most popular outcome imaginable. Last year's crash with Tony Kanaan almost killed her fledgling team stone dead, but she's come back stronger and is carefully and professionally building up the organisation, looking ahead to the day when she won't be driving for it any more.

Townsend Bell (qualified 24th)

A veteran with a one-race deal, Bell didn't have the funding to take part in the first week of qualifying but was fast from the word go in the second and grabbed one of highest starting positions remaining. His team, KV, are turning out fast cars and a top 10 run wouldn't be a surprise – if race rustiness doesn't catch him out.

Ryan Hunter-Reay (qualified 32nd)

A race winner last year and the face of a high profile advertising campaign, Hunter-Reay should be having the time of his life – but he's cursed with a dog of a car and only just scraped into the field. However, there's no doubting his talent and if Vision iron out the kinks in the car he could well feature.
And that leaves…
AJ Foyt IV (qualified 19th)

The thoroughly inoffensive grandson of irascible racing legend AJ Foyt will be turning out for his grandpappy's team, with the aim of doing well enough to attract the sponsorship for more races.

Davey Hamilton (qualified 22nd)

Hamilton's comeback from a crash that left him in a wheelchair for a year had made him a firm fan favourite, and he qualified best of the four Dreyer & Reinbold cars this year.

Mike Conway (qualified 27th)

The Brit has so far failed to complete a race and landed himself in hospital during practice for this one. A sensible target for Conway to aim at is simply seeing the chequered flag.

John Andretti (qualified 28th)

The popular veteran is certainly capable of producing the goods, but it took an all-or-nothing last ditch effort to qualify for the field and he'll likely find the race one long battle too.

EJ Viso (qualified 29th)

Fast but erratic, Viso terrifies and astonishes in equal measures when he races. Over 200 laps of the Indianapolis Motor Speedway, that's not a combination to inspire confidence.

Milka Duno (qualified 30th)

Derided as a dangerously underpaced ride-buyer, Duno is not actually as bad as she's made out to be – particularly in sports cars. At Indy, though, she'll probably be slowest in the field.

Nelson Philippe (qualified 31st)

Sent out for practice in a car so poor he begged to be allowed to stop driving it, rookie Philippe pulled it together for Bump Day and will benefit from the experience.

Alex Tagliani (qualified 33rd)

A decent driver with little oval experience, Tagliani failed to qualify his own car after his team assumed he was safe and didn't send him out on Bump Day. Bruno Junqueira, who did qualify, was unceremoniously dumped by Conquest to put the more commercially-useful Tags into the field.