Ryan Hunter-Reay and Darren Manning showed you don't need to be a well-funded multi-car outfit to nail an IndyCar race by taking first and second ahead of the more fancied teams in the Camping World Grand Prix at Watkins Glen.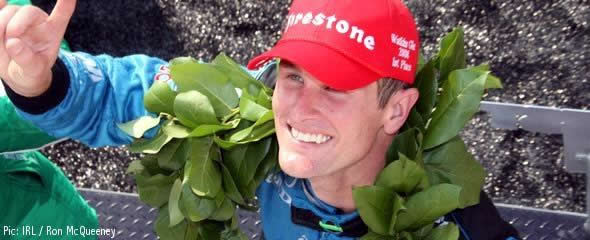 Andretti Green's Tony Kanaan in third was the only one of the championship leaders to post a decent finish as Helio Castroneves fell victim to technical gremlins, Scott Dixon blundered a way a shot at a fourth straight victory on the course, and Dan Wheldon was taken out by Manning.
Justin Wilson, who'd qualified second, fell victim early on to a gearbox leak.
A full report and photos will follow tomorrow but, for tonight, here's how the race unfolded on our Twitter feed:
Maybe 20mins left to IndyCar at Watkins Glen… . Can Justin Wilson (or Dan Wheldon or Darren Manning) make it two British winners today?
Well that was a grim start… Wilson loses places, Wheldon cuts the bus stop and needs to pit to fix damage – or retire.
So it's Briscoe leading, Hunter-Reay second, Dixon third having given back the place he took by jumping the start. Kanaan fourth, then Servia, Moraes (who started 13th) and Wilson.
It seems Wilson and Manning are going at it hammer and tongs but we don't get to see it as the indycar.com streaming video only tracks the leader…
Looks like we've lost Helio as well as Wheldon… yellow flag… two of the championship leaders gone already – happy days for Dixon
Much pitting under yellow, including Wilson… leaders all stay out. What is it with N/H/L and pitstops? They can't resist bring Justinho in whenever there's a yellow.
Ah balls, Wilson's race is as good as over. Gearbox leak. Still in the pits and 3 laps down already if he made it out now. Which he won't.
Meanwhile, Dixon is hunting down Briscoe. Manning still running well – though he may have been responsible for finishing off Wheldon
Wheldon likely to come out again, for what it's worth. Wilson won't. Looks like Howard might be out too. Very casual pit crew, they say.
Briscoe and Dixon pit on the same lap, two-stopping… Briscoe has the faster stop. Vitor Meira now leading?
Meira, three-stopping, finally pits from the lead.
Briscoe and Dixon lead… a lot depends on whether there's another yellow or not… if there ain't, a 2-stop strategy may be impossible
Ah bless – reports of Justin Wilson walking back from his car, climbing 4ft fences while fans hold his gear, then signing autographs…
Wilson interviewed – they didn't know how much oil had leaked from the gearbox when they sent him out again. Lasted 10 laps then *pof*.
Meira's out – unstuck while lapping Duno and into the tyre wall. Manning pits and is close to having the legs to make a 2-stopper.
IndyCar.com timing saying Meira "may have been touched by EJ Viso". Oooh missus!
Mass pitting. Danica Patrick seems to have hit a bouncing tyre and ploughed into the scattering Ganassi mechanics. No harm done.
Darren Manning perfectly placed as a result of that yellow… could he – nah, let's not jinx him.
Wheldon blames Manning for his retirement and says "you can see why AJFoyt is going to fire him". Ouch.
We're green. Manning keeps the lead, Dixon wins a bunfight for second with 3 others… we're yellow again for Bernoldi coming off
Let's face it – if Manning blows this, he probably WILL be fired…
Still yellow… it's Manning – Dixon – Briscoe – Hunter-Reay behind the safety car.
Could be yellow for a while… AJ Foyt IV and Milka Duno wrapped round each other out on the circuit… AJF not looking happy.
The commentary is stuck in a pre-recorded loop but it looks like we just lost Dixon and Briscoe, the Kiwi spinning and hit by the Aussie
If that's real and not a recording from a previous race, the odds REALLY just shifted Manning's way
Well, they're both running… but nowhere near the front. Hunter-Reay is second… then Kanaan and Junqueira.
Dixon radioed his pits he'd been warming the tyres and spun. "Apologise to Ryan Briscoe it was bloody stupid". "I agree" Chip Ganassi said.
Green racing – Hunter-Reay seizes lead from Manning
Camara spins out – another yellow. It's Hunter-Reay, Manning, Kanaan. Not many laps left. 51 of 60 completed.
We're running again – Hunter-Reay streaks off, Manning in danger from Kanaan and Buddy Rice
56 of 60 complete – Hunter-Reay well ahead, Manning's tyres have come back and he's holding station ahead of TK… Rice holding off Andretti and Junqueira
One lap to go – this is Hunter-Reay's to lose and there's no reason to think he will. Manning may be protected by TK's need to secure points
With Dixon outside the top 10 and Wheldon and Castroneves nowhere, Kanaan is the real winner today even if he stays third
Ryan Hunter-Reay takes his debut win the in the Ethanol Rahal Letterman machine… does donuts in the run-off area in celebration
Manning confirmed second, TK 3rd, Rice 4th, Andretti 5th, then Junqueira and Moraes
Phew. Manning happy – AJ Foyt happy (doesn't seem to blame Danger Mouse for losing the lead on the restart) – Ryan Hunter-Reay VERY happy