Alex Lloyd won the 2007 Indy Lights title and then disappeared almost without trace into the Target Chip Ganassi Racing development programme – but his pink race gear and car will be impossible to miss at Indy this month.
For the second Indianapolis 500 in a row, Ganassi has joined forced with another team to give the Isle of Man native a chance to compete on one of the biggest stages in world motorsport.
Last year he lined up in a tasteful green and white Nintendo Wii-sponsored car run by Rahal Letterman – but this year he's back with his old Indy Lights colleagues at Sam Schmidt Motorsports driving a lurid pink machine promoting 'HER', an energy drink for women.
On track, he faces competition from Nelson Philippe's luminous green #00 machine for the title of 'most visible car' – but off-track there's no contest, as the pink theme has been carried across to his firesuit and helmet.
"I'd seen the idea of the car for a while, so I was prepared for how that was going to be. The suit is brighter than I expected but the whole idea is it's going to stand out and be a talking point," he said.
"I got a few wolf whistles from the guys – the reaction has been interesting, but the women and kids love it. If I have to walk around in a pink suit for everyone to notice it, that's fine by me."
His wife Samantha has got into the spirit of the campaign, sporting "Real Men Wear Pink" and "I'm with HER" t-shirts in support of her husband, although team boss Sam Schmidt admits to keeping his pink team shirt hidden securely in a closet – at least until Chip Ganassi wears one, too.
"As soon as Chip gets there, I'll get there, how's that?" he joked.
But the friendly bantering can't hide how seriously the teams and sponsors backing Lloyd take his future as a driver. Ganassi management say they've tried hard to find the sponsorship to run him full time – and when HER CEO Brett Jacobson approached about a partnership there was no hesitation.
"It all came together at the right time with all the right players," she said. "This is really step one as part of a much bigger program going forward with Chip Ganassi Racing and with Alex and Sam Schmidt. We're excited about it and looking forward to the future."
Schmidt, too, was pleased to be reunited with the driver who earned eight wins and more than 650 points on his way to the Indy Lights championship.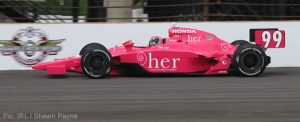 He said: "With regards to the IndyCar, I've haven't been this excited in the past five years coming here. We know we have a very competitive effort, and to be teamed with the last two winners of this race [Ganassi drivers Scott Dixon and Dario Franchitti] is special. To make things even more special, to reunite with Alex is something that excites us all."
And Lloyd looks back on his time with Schmidt as the point at which his career started on the track towards the top – even though his development deal with Ganassi means that it's happening slowly and steadily rather than in a blaze of sudden glory.
He said: "I've spent enough of my career now in teams of various levels up and down the grid. 2007 was the first time in my career that I had ever gone to what was known as the number one team, the drive that you want. We obviously were very successful with that.
"I really felt at that point, as a racing driver, the most important thing is to put yourself with the right people. It's really tough for a young driver with sponsorship so hard to come by. The economy is very bad. But I felt like the best thing for me was to get an opportunity to drive for Target Chip Ganassi Racing. And I felt like there's a future there long-term.
"Would I have loved to have jumped in the car full time? Everybody would. But in today's state that's not possible. So I'm just looking at it as be patient, do my job when the opportunity arises and we're all working very hard to try and make something happen. And I feel like I'm in the right environment, that when opportunity comes, I'll have the opportunity to shine."
And his loyalty has not gone unappreciated by the team. Manager Mike Hull said: "In a way, if I was Alex, I would probably find somebody else to drive for because I'm not getting enough time in a race car. But he's been professionally correct in what he's done with us. He stands by the brand and works hard with us, and we hope that we can return that favour.
"We feel Alex Lloyd represents the kind of race driver that should be driving an Indycar. We have tirelessly worked for three years to come up with a full-time budget for this guy to drive a car for Target Chip Ganassi Racing.
"He has driven our Indycars in testing situations. He's driven for our Rolex sportscar team in the 24-hour race (at Daytona), probably the biggest sportscar race in the world next to Le Mans. We have a lot of confidence in Alex."
And if the price of cashing in that confidence for a drive at the Indy 500 is one of the most lurid race liveries in recent memory, Alex Lloyd certainly isn't complaining. He knows there are dozens of drivers who would dearly like to be where he is now – pink firesuit and all.