For the second outing in a row, a late Marco Andretti crash meant that the race ended under caution and Scott Dixon was denied a duel to the finish line with a Team Penske driver.
But this time, instead of being beaten by Ryan Briscoe, the New Zealander led home Helio Castroneves to win the Bombardier Learjet 550k at the Texas Motor Speedway and extend his championship lead over the Brazilian to 35 points.
Briscoe fought back from a lap down to take third, while Dixon's team-mate Dan Wheldon – who qualified poorly in the aftermath of a spectacular crash in practice – took the Target Chip Ganassi Racing spare car to fourth place.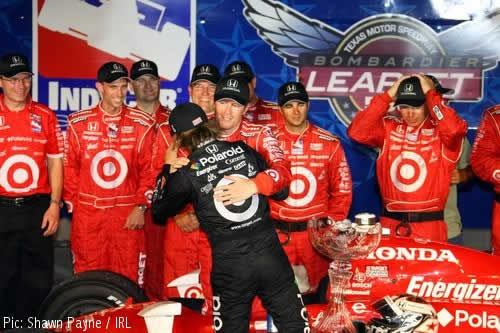 Dan Wheldon trashed his car with the one-off black Polaroid livery in practice and had to run in normal Ganassi red. But at least he managed to get his sponsor's branding into the victory photos…
Dixon said: "I'm sorry to see it end under caution, but it's a great way to get some points for this championship. Dan did a great job coming from the back, and I saw him looming there for a little while. I don't know what to say. We finally won at Texas, and I'm pretty happy about that."
Wheldon said: "Very good results for everybody at Target Chip Ganassi Racing. Obviously, Scott is on a tear right now.
"Unfortunately I wasn't able to run the Polaroid car, but that's the way it goes. I want to say thank you to the safety team for the job the did this weekend. They were pretty busy.
"It was a little inconsistent for me, but that's part of racing. We came out with a top-five. It still didn't go my way, but we'll work on that."
It was a frustrating day for the Penske cars – both drivers suffered drive-through penalties for pitlane infractions, Castroneves for speeding and Briscoe for accidentally pulling into Wheldon's pit box and knocking over a tyre that was set out awaiting the Englishman's arrival.
"For the car that I had, it was supposed to be a win. I'm upset about that – I let those guys down," said Castroneves, while Briscoe lamented "I don't know what I was thinking".
Marco Andretti and Ryan Hunter-Reay were both perfectly clear about what they were thinking when they crashed with with less than five laps to go while fighting over second place – it was the motivations of the other driver that left each of them baffled.
Hunter-Reay, who had been heading for his best-ever result, said: "Marco gave me the low line on the backstretch and all day that meant that he would give me the low line in the corner as well, but he came down on me, I went low to avoid him and got down on the white line. That upset both cars and took us out.
"We had a great car, we pushed really hard, the guys in the pits were flawless, and we really deserved a good finish tonight. This was going to be our breakout night and we didn't get it. I can't tell you how disappointed I am."
Andretti, who was heavily involved in the late-race crash at Milwaukee that sent Vitor Meira airborne, saw it differently: "I feel kind of bad for both of us but the fact is, there are some guys you can run close with and some guys you can't. He clearly hit the white line and that is that."
Dixon caught a glimpse of it happening: "I kind of caught it a little bit in my mirror. I saw it was getting a bit crowded back there. It gets a bit desparate in the last few laps.
"If it had played out to a fuel-strategy race, it would have been a nice, clean finish, but when you have eight laps to go and 20 guys going for second or first spot, you're going to have something happen. It's unfortunate that it happened, but good for us."
It was a fairly dismal night for the other two Brits in the field. Darren Manning was the first driver to retire from the race, dropping off the pace as early as lap 17 with a fuel pressure problem. On lap 20 he came to a halt on the backstretch of the circuit and had to be towed back to the pits.
He said: "It just completely stopped dead on the track. There's nothing we can do on pit lane to fix it. The car was really good. We had a fuel pump problem on Thursday and we missed all of practice, so we qualified with a race setup. I was passing everybody and then that happens. It's a shame because I thought we could get to the front."
Justin Wilson lasted a bit longer, limping back to the pits and retiring on lap 38 after a sudden inability to brake led him to make light contact with the wall.
He said: "It felt like the car was sliding around a lot; it was difficult to hang on to but we were able to move forward. I was pleased with the progress we were making; I think the McDonald's car was pretty quick.
"I had just started to settle down and I was happy where I was. We were up inside the top-15 and I was happy so I was just trying to ease off a little bit.
"I was happy to sit there and let the race unfold but something happened up the road and Buddy (Rice) had to check up so I lifted off the throttle at the exit of Turn 1 and went all the way through Turn 2 off power and just couldn't get the car to stop.
"I just ran out of road and brushed the outside wall of Turn 2. The car went a long way with no throttle and I just couldn't get it stopped."
Next up for the IRL is the Iowa Corn Indy 250 at the Iowa Speedway on June 22.