Scotland's Dario Franchitti tasted victory in only his second race since returning to Indycars after canny pit strategy helped him overcome a poor start.
Franchitti, the series champion in 2007, had qualified second behind Will Power but was left at the rolling start and passed by third-place starter Raphael Matos and fifth-placed Justin Wilson.
He re-took Wilson on the track but his victory over Power – racing for his career in the unfamiliar #12 car after being bumped from the #3 by the return of Helio Castroneves – was built on two happily-timed pit stops.
Twice Franchitti, towing Danica Patrick in his wake, pitted just before accidents brought out full-course cautions. When the rest of the field pitted under the safety car shortly afterwards the pair found themselves at or near the front.
Patrick, no road course specialist, hung on for fourth after qualifying 22nd. Franchitti led home Power and Tony Kanaan for his first IndyCar road course victory.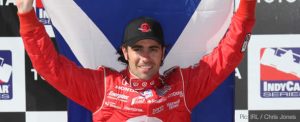 He said: "I got lots of Champ Car street and road course wins, but I haven't had one in the IndyCar Series, so to finally get one feels good for all kinds of reasons. It's good to be back and see full grandstands and see a buzz at the track."
Dan Wheldon, earning his first top-five finish with Panther Racing, had started out from a far less promising spot after qualifying 14th.
He achieved the result partly by driving a cautious race that allowed him to escape damage in the lap 24 crash that marred the day for most of the other Brits on the track.
He returned to the field in 12th position after a restart on Lap 28, then climbed to ninth prior to a caution on Lap 39 for contact involving Vision Racing's Ed Carpenter.
The team elected not to make a pit stop during the cleanup but a well-timed stop on Lap 51, just two laps before another full-course caution, was the strategic call that put a top-five finish in Wheldon's grasp.
Further incidents that allowed him to conserve fuel meant he could stay out until the end of the race.
With less than five laps remaining, one final incident was averted when Andretti Green's Marco Andretti tried to pass Wheldon the inside of Turn 11, making slight contact with his right-rear wheel.
There was no apparent damage to Wheldon's National Guard machine, meaning he was able to pull away from Andretti by more than a second for his 55th top five finish, and his best finish on a street course since a podium finish at Belle Isle in 2007.
For the next race, held at Kansas Speedway next weekend, Wheldon is the two-time defending champion and is looking to make it three victories at the track.
He said after the race: "So far the Panther team has done a fantastic job calling the races, and certainly it was a different race; there wasn't a lot of passing out there.
"Once I got off the black tyres, which I really struggled with rotating the car and getting good power down, it really came alive. Once the track rubbered in, that helped us as well. But the National Guard Panther Racing team did a really good job, I thought we were pretty competitive all weekend.
"Everybody worked hard and did a good job in terms of the pit stops, and it was a tough race and a race of attrition, but we made it to a Top Five.
"It was important for us to score points going into Kansas, because that's a race I'm very confident about, but the IndyCar Series is so competitive now that you can't count your points too early."
Dale Coyne's Justin Wilson had a superb start that saw him pass two cars into the first turn to gain third place. Franchitti had got past him, but he was fourth when the full course caution flag came out on lap 17.
He was one of nine cars to stay out on track and then, on lap 24, he ran into trouble in the form of a five-car pile-up caused when KV Racing's Mario Moraes fell over some cars slowing for Turn 11.
The team tried to get his car running again, and he managed another four laps, before having to retire with damaged suspension.
Wilson said: "There was a lot of traffic in close quarters going into the hairpin and someone tried to pass about three cars ahead of me which caused everyone to check up.
"I got hit pretty hard in the rear which caused me to hit Moraes in front of me. I'm very disappointed for the team and for Z-Line Designs which just announced their return to Dale Coyne racing".
Team owner Dale Coyne added: "We are disappointed at what could have been the best start in the first two races of the season. The day started out well and we wanted to put on a good performance here at this historic race."
The team says it will regroup before preparing for its first venture onto on oval at Kansas.
At Dreyer & Reinbold both Mike Conway and Darren Manning had a frustrating day as their races were interrupted by events beyond their control.
The pair qualified 16th and 18th and got a clean start to the race, which they managed to hang onto for the first 12 laps.
Then Conway's gearshift system failed, making his car undriveable and effectively ending his race after he lost control of it on lap 16, running into the wall and stalling.
Meanwhile Manning kept his nose clean until lap 22, when he ran into the back of the same five-car pile-up that had felled Wilson.
He said: "It's a bit of shame that we got caught up in that mess in the hairpin. I had nowhere to go and ended up underneath the rear wheels of Hideki Mutoh.
"We were definitely quick enough. It was unfortunate to be a lap down, because we had the speed and could have definitely been in the top ten."
Conway added: "Today was a really tough race. In the beginning we were fine and were making up positions keeping with the guys ahead.
"We were saving fuel and then we started having issues with the electronic shift assist and unfortunately, that's what ended my day early. Now we just have to put this race behind us and move onto Kansas."