Mike Conway shrugged off the after-effects of his high-speed crash and hospital stay to provisionally qualify for the Indianapolis 500 with a four-lap average speed of 220.124mph that put him 28th in the field of 33.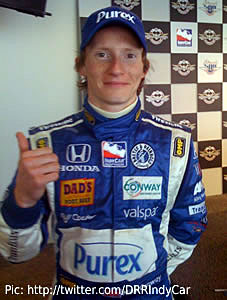 The IndyCar rookie from Kent suffered concussion and bruised lungs during last Saturday's practice session and there were fears that he might have to be replaced, with Yorkshire's Darren Manning on standby in case he was not cleared to drive.
But the 25-year-old came roaring back with a performance that gives him some breathing space on Bump Day tomorrow, when the three drivers currently outside the field attempt to get in at the expense of the slowest qualifiers.
He said: "I wasn't sure what to expect in qualifying, but those were some of the best laps we laid down all day. The car felt more comfortable, and it was good to run a good average.
"I was trying to get the rear end stable – the wind was quite sharp in turn two and I had a lot of understeer. Going into turns three and four I was losing grip. I had to work the weight-jacker to keep up the average speed. I was able to keep it pretty much flat all the way around.
"When you're out there by yourself in qualifying it's a pretty big place. It was good to see the green flag, so I could get on with it. We're in the field. I'm happy and looking forward to what comes next."
Robert Doornbos, returning after crashing both his main and spare cars during practice for Pole Day, was fastest and grabbed 23rd place in the field ahead of KVM's Townsend Bell. Oriol Servia, Alex Tagliani and Tomas Scheckter also secured places ahead of Conway.
With Sunday expected to offer better conditions – and therefore faster times – several of the slower drivers in the field are looking nervously over their shoulders. Most vulnerable is rookie Nelson Philippe in 33rd, who struggled so badly with an ill-handling car in Thursday practice that he begged to be allowed to stop driving it.
Conway's team-mate John Andretti, a veteran of many Indy 500 qualifications who currently holds 31st place, said: "We're pretty much a target – it is certainly an attainable speed for people to capture. So it's not a good night's sleep for a lot of people, including me. This has been for sure my roughest month of May, by a thousand-fold."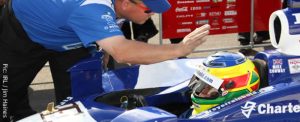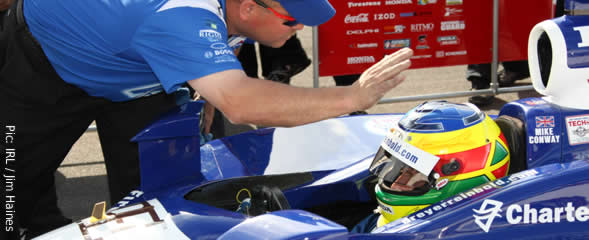 The three drivers currently outside the field include stuntman and NASCAR driver Stanton Barrett, who was always expected to struggle. Venezuelan pay driver Milka Duno grabbed 32nd spot late on Saturday, displacing 1996 winner Buddy Lazier who is on another sentimental journey with Hemelgarn Johnson Racing.
The third driver not in the 33 is veteran Bruno Junquiera, who has not yet been out on track following his last-minute deal to run in Conquest's second car, and who should comfortably bump his way into the field.
Conway's 28th position means that five drivers – EJ Viso, Ryan Hunter-Reay, Andretti, Duno and Philippe – are more vulnerable than him. However, bumped drivers can attempt to re-enter the field at the expense of the slowest cars remaining in the line-up and, if tomorrow is substantially quicker than today, quite a few qualifiers who might have hoped to be safe might find themselves being sucked into trouble.
To add to the drama, the currently driverless third car operated by AJ Foyt's team is listed to run on Bump Day – suggesting there is still an outside chance of a last-gasp entry by a driver such as former winner Buddy Rice, who is known to be searching for the funding to compete.
Indy 500 qualifying positions
After day three qualifying
Row
Inside
Middle
Outside
1
Hélio Castroneves
Team Penske
Ryan Briscoe
Team Penske
Dario Franchitti
Target Chip Ganassi Racing
2
Graham Rahal
Newman/Haas/Lanigan
Scott Dixon
Target Chip Ganassi Racing
Tony Kanaan
Andretti Green Racing
3
Mario Moraes
KV Racing Technology
Marco Andretti
Andretti Green Racing
Will Power
Penske Racing
4
Danica Patrick
Andretti Green Racing
Alex Lloyd
Sam Schmidt / Ganassi
Raphael Matos
Luczo Dragon Racing
5
Paul Tracy
KVM Racing Technology
Vitor Meira
AJ Foyt Enterprises
Justin Wilson
Dale Coyne Racing
6
Hideki Mutoh
Andretti Green Racing
Ed Carpenter
Vision Racing
Dan Wheldon
Panther Racing
7
AJ Foyt IV
AJ Foyt Enterprises
Scott Sharp
Panther Racing
Sarah Fisher
Sarah Fisher Racing
8
Davey Hamilton
Dreyer & Reinbold / Kingdom
Robert Doornbos
Newman/Haas/Lanigan
Townsend Bell
KVM Racing Technology
9
Oriol Servià
Rahal Letterman
Alex Tagliani
Conquest Racing
Tomas Scheckter
Dale Coyne Racing
10
Mike Conway
Dreyer & Reinbold Racing
E. J. Viso
HVM Racing
Ryan Hunter-Reay
Vision Racing
11
John Andretti
Richard Petty / D&R
Milka Duno
Dreyer & Reinbold Racing
Nelson Philippe
HVM Racing