Almost two months after Scott Dixon wrapped up the 2008 IndyCar championship in Chicago, the series has run its final race of the season – a non-points holiday jaunt to Surfers Paradise in Australia.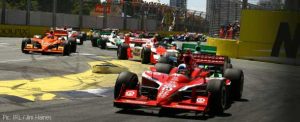 Aussie Ryan Briscoe pleased the home fans with a victory over New Zealand's Dixon, while Briscoe's countryman Will Power failed to win the race from pole for a third year in a row.
The long gap following the end of the scoring part of the season meant that the field had more in common with next season's line-up than the last.
Scotland's former champion Dario Franchitti, returning to the series after his misadventures in NASCAR, made an early start on 2009 by taking over the #10 Target Chip Ganassi Racing car from Englishman Dan Wheldon.
Wheldon also got an early run-out for his new team, Panther, displacing Vitor Meira in Australia. And Meira continued the musical chairs by running for AJ Foyt Racing instead of Darren Manning.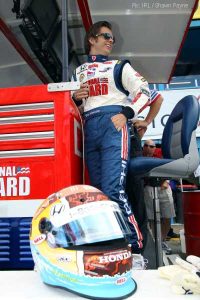 Another Englishman who didn't need to pack his bags for the trip Down Under was Jay Howard, whose admittedly tenous grip on an IRL seat ended when Roth Racing was shut down by its owner Marty Roth. The Canadian millionaire apparently acted in response to the series suggesting that his days trolling along at the back of the field were numbered.
None of the drivers turning out for new teams made much of an impact on the final result. Franchitti qualified fourth and led a lap, but hit a barrier on lap 29 and ended up 16th. Wheldon made up some ground on his start position but could not crack the top 10, finishing 11th, while Meira was 14th.
Justin Wilson finished inches behind Wheldon in 12th – although some versions of the race results showed 10th-placed Buddy Rice in 12th, with Wheldon and Wilson each a place higher.
Briscoe inherited the lead after Power made what he later described as the worst mistake of his career on lap 17, clipping a wall and suffering race-ending damage.
Power said: "I'm really disappointed – I just can't win at this place. I had such a quick car this weekend and I feel real sorry for the guys. I was saving a lot of fuel and we were quicker than anyone. It was just a bad display."
Briscoe came under late pressure from Dixon, but was not seriously threatened for the win. He said: "What a way to cap off the year – and in my home country. It doesn't get better than this. I'm just so happy for all the fans. It was a great event and we're going to turn up the wick tonight."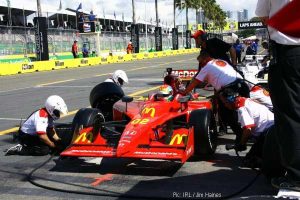 Dixon said: "We were quicker in different spots. He was quicker than me, but we were quicker on the backside. I don't know, if he had made a mistake, we could have got him."
Ryan Hunter-Reay, a former winner at the circuit, took third. He said: "It was a long race with those kerbs. They beat the hell out of you. It was nice to get by Dario in the beginning. From there I picked off good laps. I did my usual deal at Surfers. I've never been out of the top five here."
Wheldon saw the race as useful experience for next season, when Panther hope for a boost in the championship with their new driver. He said: "This weekend for myself and the Panther crew was a very tough baptism. The Australia track is a difficult one for people who have never been here before.
"We pretty much lost the first three practice sessions with a few little problems that put us on our back foot for a good part of the weekend. But the Delphi National Guard crew is in good place because now we know what we need to work on together throughout the off-season and we're in a much better position now as a team than we would have been if we hadn't been able to run here."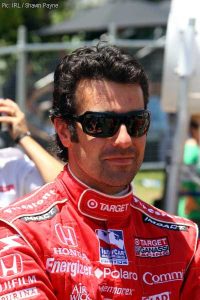 Newman/Haas/Lanigan's Justin Wilson suffered through a frustrating day of mechanical problems that caused him to yo-yo up and down the field. He had qualified ninth but suffered a gearbox problem on the grid that dropped him to last.
He said: "If I wasn't laughing I'd be crying. I worked my way back up from 24th and was around 12th after eight or nine laps and was back in the game. On our first pit stop we had trouble flowing fuel so that meant I was last again and had to work my way back up."
He managed to – but contact with Bruno Junqueira, damaging his front wing, and a late extra fuel stop meant he had to do it all over again to finish 12th.
"I passed a bunch of cars which was the same group I had passed about three times already at this stage so I passed them again and came in for a splash of fuel, went back out and tried to pass them again. It was a long day."
Neither of the IRL's two media stars, Helio Castroneves and Danica Patrick, shone particularly brightly.
Patrick started from the back row and could finish only 18th. Castroneves, who is facing possible jail time over tax fraud accusations, was given permission by a judge to leave the US for the race and finished seventh, never seriously troubling the leaders.