Ulsterman Wayne Boyd has taken his maiden win in Round 12 of the British F3 International series held on a damp weekend at Britain's Donington Park circuit.
Boyd produced a spectacular drive from 10th in the grid to take the honours, despite at one point slipping as low as 12th in the Sunday-afternoon event.
In the previous round Hi-Tech's Walter Grubmuller took a pole-to-flag victory to put himself in contention for a series title run.
Read on to see how the weekend unfolded.
Qualifying: Hitech and Carlin share the honours
Renger van der Zande was on pole following Round 11 qualifying after pipping his Hitech team-mate Walter Grubmuller to the post and handing the squad its fifth consecutive pole in the series. It was also his third in a row.
Championship leader Daniel Ricciardo went third quickest for Carlin with Carlos Huertas fourth for Raikkonen Robertson in his best qualifying performance of the season. Carlin's Max Chilton was the highest-placed Brit in fifth.
Fortec's Riki Christodoulou was seventh while T-Sport's Gabriel Dias was eighth-quickest overall and the leading qualifier in the National Class. His team-mate Wayne Boyd was ninth. Litespeed's Jay Bridger was 11th with Carlin's Henry Arundel twelfth.
In Round 12 qualifying Ricciardo broke the Hitech stranglehold to claim his second pole of the season, joined on the front row by T-Sport's Adriano Buzaid who produced his best qualifying performance of the season so far.
First-session polesitter van der Zande was third, with team-mate Grubmuller fourth. Chilton was fifth, Arundel eighth, Boyd ninth, Bridger tenth and Christodoulou 11th.
Round 11: Grubmuller puts himself in title contention
Grubmüller closed the gap to championship leader Daniel Ricciardo in Round 11, claiming a dominant victory ahead of team-mate Renger van der Zande.
Meanwhile Ricciardo recovered from early-lap drama to take third place at the chequered flag, but with his points advantage cut from 23 to just 16.
Grubmüller's victory was set up with a decisive move off the startline, a better getaway than van der Zande, that allowed him to to slot in ahead of his team-mate into the first corner.
His only real challenge came on the 10th lap when the safety car was called out while National Class runner Gabriel Dias' car was was retrieved from a dangerous position.
Grubmüller and van der Zande handled the restart perfectly and kept well clear of their closest pursuer, Raikkonen Robertson's Carlos Huertas, enjoying his best-ever grid slot.
Ricciardo, meanwhile, slipped down to seventh by the third lap and staged a race-long fightback to third with a series of overtaking manoeuvres.
Despite that Grubmüller crossed the line six-tenths clear of van der Zande, while Huertas held on for fourth ahead of Buzaid, Chilton, Christodoulou and Daisuke Nakajima, with Jay Bridger and Wayne Boyd completing the top 10.
Round 12: Maiden victory for T-Sport's Boyd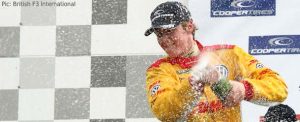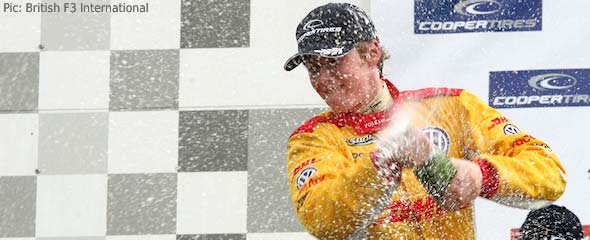 Ulsterman Wayne Boyd claimed his maiden victory after staging a magnificent drive in treacherous conditions to lead home his T-Sport team-mate Adriano Buzaid. The 18-year-old started from 10th on the grid, dipping to 12th in the early stages, before cutting through the field for a popular victory.
Ricciardo led from pole in the early, dry laps, pursued by Buzaid, van der Zande and Grubmuller. But, following a two-lap safety car period caused by the need to rescue a stranded car from the track, Ricciardo was hijacked by van der Zande and Buzaid through McLeans corner.
The Australian spun back to seventh, just ahead of Boyd, who had recovered well from an off on the opening lap and who was coping well with the increasingly damp conditions.
Within two laps Boyd dispensed with Ricciardo, Huertas and Chilton to move into fourth. Both Grubmuller and Buzaid fell victim to the charging Ulsterman on the 15th lap and then, after five laps shadowing van der Zande, Wayne put in the overtaking move of the season at Redgate, around the outside of the Dutch driver, to claim the lead.
With van der Zande fading towards the end, and later given a 25-second penalty for his incident with Ricciardo, Buzaid moved into second for a T-Sport one-two.
Boyd said: "After being so dominant in Formula Ford last year, jumping up to F3 was a big step. People doubted I could do it. But now to get my first win in the hardest conditions we've seen all year… it's absolutely brilliant.
"I got pushed on to the grass at the start, and that fired me up a bit. Big thanks to T-Sport, the car was absolutely brilliant."
Grubmuller claimed third, ahead of Huertas and Ricciardo, to narrow the Carlin driver's lead further still. The top 10 was completed by Arundel, Chilton, Bridger, Nakajima and Christodoulou.
Standings (points-scorers only):
Daniel Ricciardo, Carlin: 141 points
Walter Grubmuller, Hitech: 128 points
Renger van der Zande, 100 points
Riki Christodoulou, Fortech: 86 points
Adriano Buzaid, T-Sport: 79 points
Max Chilton, Carlin: 74 points
Nick Tandy, JTR: 68 points
Marcus Ericsson, Raikkonen Robertson: 65 points
Daisuke Nakajima, Raikkonen Robertson: 64 points
Henry Arundel, Carlin: 52 points
Carlos Huertas, Raikkonen Robertson: 38 points
Wayne Boyd, T-Sport: 36 points
Jay Bridger, Litespeed: 15 points
Victor Garcia, Fortec: 13 points
Robert Wickens, Carlin: 12 points
Oliver Oakes, Carlin: 7 points
Hywel Lloyd, CF Racing: 6 points
For all the series' stats, standings and news, visit its website here >>