A weekend in Morocco tested Formula Two's young drivers to their limits – and sometimes beyond – as they got to grips with a street circuit, many for the first time in their careers.
Nevertheless it was a good outing for the Brits with Dean Stoneman fufilling the potential he showed in the series' first two outings to take a race one win. Will Bratt took third in race two and Jolyon Palmer narrowly missed out on a podium after a car failure.
The event was one of the few to have taken place in Morocco since the Formula One 1958 Grand Prix. But the country is hoping its newly-constructed Marrakesh City street circuit will attract plenty of racing action in the future.
Certainly this weekend did not lack in drama. Here's the story of how it played out.
Bratt and Clarke get the hump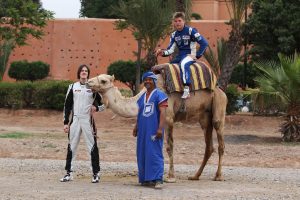 The weekend's racing kicked off with a street demonstration by British drivers Jack Clarke and Will Bratt who showed off their cars and performed tricks like burnouts and donuts. Clarke also rode a camel and challenged the Marrakech grid girls to a Segway race.
He said: "The whole thing was great. It's not often that you get an opportunity to do something like this through the streets of a major city. The fans seemed to enjoy it and so did I."
Bratt added: "It was pretty wild. It's always great to come out and have some fun with the crowd and this has really built the anticipation ahead of the weekend."
Stoneman shines in practice and qualifying
The heroes of the practice sessions were Johan Jokinen, who topped the timesheet five minutes from the end of an incident-packed practice one, and Stoneman, keeping his rivals at bay in practice two with a succession of improving times.
Stoneman carried his form over into the first qualifying session, taking pole for race one by a clear two-tenths of a second, and heading a quarted of Brits that was completed by Jolyon Palmer, Clarke and Bratt. Jokinen was fifth.
The 19-year-old said his fast lap had not represented flat-out performance from his car, with a few more tenths in the bag had he needed them. He added: "I've coped with the circuit really well – it's been down to who can be the most consistent, and I've proved that over the three sessions."
Palmer said he was pleased to turn a less-than perfect day into a front-row start and added that he hoped a result on an untried circuit would prove his consistency.
Stoneman turns pole position into maiden F2 win
Stoneman rose above a demolition derby on the streets of Marrakech to convert pole position into a hard-fought race one win.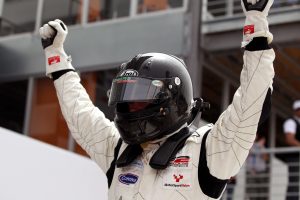 His tactics were to successfully defend against Palmer in the opening laps, before building a strong lead and then preserving it through three safety car periods, one of which saw his closest rival's car give out.
On the first lap Clarke and Nicola De Marco were felled by a collision at the first chicane while Benjamin Bailly outbraked himself at turn four to take out Bratt. The safety car duly made its first appearance.
Shortly after the restart on lap 6 Silverstone winner Philippe Eng got inside Jokinen's car to snatch third as Stoneman extended his truncated lead back to five seconds. Meanwhile, Kazim Vasiliauskas was busy making his way through the field, having missed qualifying due to crash damage.
He came to grief overtaking Natalia Kowalska on lap 10 when she outbraked herself in turn four and hit his car, returning him to the back of the field and ending her own race. Out came safety car number two, leaving the field racing under caution until lap 13.
Then Stoneman came under intense pressure from Palmer as Eng duelled with Jokinen for third, a battle with severe consequences for the Dane on the next lap, as he carried too much speed into turn 1 and crashed heavily into the barrier.
The last safety car period finished off Palmer's car, which came to a halt with seized rear wheels, costing him what would have been his third podium in three races. Stoneman was home clear with Eng and Kelvin Snoeks completing the podium positions.
Eng holds off Stoneman for second win
Qualifying for race two saw Silverstone winner Eng take pole position in a highly competitive session with what he described as "a perfect lap" on a circuit which tested the racecraft of several drivers. Behind him were Stoneman, Jokinen and Bratt.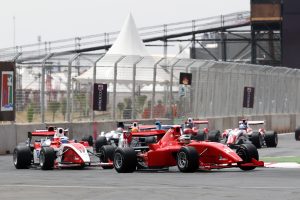 As the race started Stoneman made a bad start, leaving him needing to get a place back from Jokinen before he could attack Eng. He closed several times but was ultimately unable to find a way through.
The race was disrupted almost from the beginning as Ricardo Teixeira rear-ended Ivan Samarin's car at high speed on the back straight, sending his car airborne and causing it to overturn. Very fortunately for the Angolan it landed on its wheels and he was uninjured.
The safety car appeared for a lengthy outing while the cars of Teixeira, Samarin, Bailly, Parthiva Sureshwaren and De Marco were removed from the track.
The race restarted with 14 minutes left and Eng led away from Jokinen and Stoneman while Bratt and Vasiliauskas battled for position behind them.
The Lithuanian moved into fourth as Bratt ran wide but he responded with a successful campaign to regain the place aided by his boost button. Palmer lost places after the restart but he set about climbing through the field by passing Paul Rees and Sergey Afanasiev.
Then Jokinen crashed on the back chicane after a piece of dirt hit him in the eye. It was the second crash from third place of his weekend.
Meanwhile, at the front of the race Stoneman was challenging Eng in a fight for the line but was repelled by the Austrian. Bratt took third ahead of Vasiliauskas with Palmer fifth.
Kennard offers timely advice on street circuits
Also in Marrakech this weekend was Superleague Formula's former AS Roma pilot Jonathan Kennard who was on hand to carry out testing duties and driver coaching as well as making his commentating debut.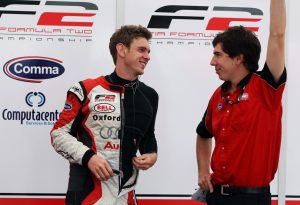 The 24-year-old, who is due to contest the Le Mans Series' 1000km of Spa-Francorchamps next weekend, competed in both free practice sessions to get the measure of the Williams JPH1B on the Marrakech street circuit. He has previously carried out straight-line testing for the F1 team.
He said of the experience: "This is a new circuit for Formula Two so I was checking ride heights and so on, so that we could pass information on to the engineers and drivers. The car ran well and we were definitely there or thereabouts straight out of the box on Friday.
"I have raced on quite a few street circuits and I felt comfortable straight away. I wasn't pushing 100 per cent but of course you have to be close to the limit in order to really test the car and the set-up.
"I was really impressed with the car. It's well balanced and a confidence inspiring car. It is perfect for what F2 is trying to achieve – it gives you the chance to change a number of settings and it is definitely a good learning category for any driver hoping to reach Formula One."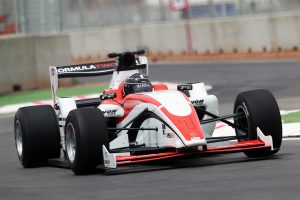 He also helped some of the less-experienced drivers come to terms with street circuit racing and how to approach the task of finding its limits without pushing too hard.
"I think that most of the drivers have done a good job in this area and you have seen with the times that the guys are just getting quicker and quicker. It is very dirty and bumpy offline however, and that is where the majority of mistakes were made.
"I always said that it would be good racing here. There are long straights and slow corners – it is a good circuit for overtaking, so just because it is a street track it doesn't mean that you can't overtake."
Of the commentating he said: "I really enjoyed it. It was great fun and a great insight into being on the other side of racing. It is definitely something I hope to be doing more of in the future."
• For all the stories, results and statistics from this weekend's racing, visit the Formula Two website here.