With two rounds of the inaugural Formula Two championship to run former GP2 driver Andy Soucek is still the runaway favourite to take the title, holding a 32-point advantage over his nearest challengers.
He widened the gap at the top with a win and a second place at Germany's Oschersleben circuit. Only 40 points remain up for grabs as the series prepares to visit Imola in two weeks' time.
Russia's Mikhail Aleshin has been promoted to second in the standings following his maiden win, overtaking Canada's Robert Wickens, with Julien Jousse close behind them.
The best result among the British drivers, now boosted by the addition of Ollie Hancock, was Jack Clarke's seventh in the first of the weekend's two races.
See how events played out in detail here:
Practice: Soucek bests rare first session dead-heat
In the first session Jousse and Aleshin tied at the top of the timesheet with an identical fastest lap of 1:21.514. Jousse was officially recorded in first position, having set his time a few seconds earlier than his rival.
They stole a last-minute march on Wickens who had been expected, until the session's dramatic closing seconds, to take the top spot. Championship leader Soucek was fourth with Briton Jason Moore in fifth, having challenged for the lead.
In the second session Soucek brooked no challenges with a fastest lap of 1:20.900, set relatively early in the session, but nevertheless remaining out of his rivals' reach. Wickens and Jousse were second and third with times set in the final moments.
Edoardo Piscopo set the last flying lap, which included the fasted final sector of any driver, and which was good for fourth overall. Tobias Hegewald was fifth and Miloš Pavlovic a last-minute sixth.
The British drivers were mostly notable for off-track action, with debutant Hancock hitting a barrier and Alex Brundle, Jolyon Palmer and Jason Moore all recovering from spins.
Qualifying 1: Soucek takes emphatic pole
Soucek followed up his practice performance with an emphatic pole position for race one after finishing more than three tenths of a second clear of the rest of the field with a time of 1:20.402.
Aleshin set the early pace, but Soucek out-drove him in the first 10 minutes of the session. Wickens challenged hard for pole, but in the end could not hold off Bortolotti and had to settle for third behind the Italian after being inched out with four minutes remaining – by tiny fractions of a second.
He could not respond as he had already used his prime set of tyres prior to a red flag caused when Moore went off between turn 12 and turn 13 with eight minutes remaining. Several drivers were on flying laps and had to abandon their efforts.
Jousse improved late on to take fourth, ahead of Miloš Pavlovic. Lithuanian Kazim Vasiliauskas rounded out the top six. Hegewald, at his home race, had to settle for seventh, whilst Carlos Iaconelli set the eighth-fastest time.
Brundle pipped Aleshin to ninth, who dropped to tenth place following a flurry of late improvements.
Qualifying 2: Maiden pole for Aleshin
Aleshin took his maiden pole on a drying track in the second qualifying session to set a time well clear of the rest of the field.
The session started in wet conditions but dried until a clear line allowed drivers to switch to slick tyres with eight minutes remaining. Aleshin was able to make the best of the conditions with a time of 1:22.131 before a late red flag brought proceedings to a close with many drivers still on hot laps.
Jousse set the second-fastest time, largely thanks to the fact that the session was halted. Soucek showed great consistency to take third, with Bortolotti fourth.
Briton Jack Clarke spun in the opening ten minutes and was left stranded on the circuit while Palmer went off into the gravel at turn six. Both cars were out of the session, which instigated the first of two red flags.
As the grip improved dramatically in the final five minutes Aleshin, Jousse, Soucek and Bortolotti were followed in the order by Wickens and an impressive run from Brundle. Nicola De Marco beat Hegewald to seventh, whilst Sebastian Hohenthal and Moore rounded out the top ten.
Race 1: Soucek keeps nose clean for victory
Andy Soucek scored a dominant victory in the opening race to convert his pole position into a fourth season win after making a clean getaway in the jaws of a large-scale first-lap accident.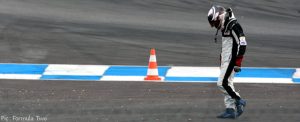 Several drivers were caught out as Hegewald made contact with Wickens, causing him to spin. Several drivers tried to take avoiding action but the incident left Hegewald, Jousse, Jens Höing, Pavlovic and Philipp Eng out of the race.
Wickens, Palmer and Moore were forced to rejoin towards the rear of the field while Aleshin was also lucky to continue after briefly becoming airborne.
The incident led to a safety car period, but Soucek maintained his lead from the restart and never looked back as he took victory by just over six seconds.
Bortolotti, who had started alongside Soucek in second, maintained position to score his fourth podium of the season. Kazim Vasiliauskas survived the first lap to take third from sixth on the grid and kept a consistent pace to take the final podium spot.
Iaconelli, Aleshin and De Marco were separated by less than a second and a half in fourth, fifth and sixth. Clarke was seventh having started 15th on the grid and benefited from the first-lap melee despite driving with a damaged nosecone. Wickens recovered sufficiently to take the last point.
Ebrahim took ninth, ahead of a gutsy drive from debutant Ollie Hancock who saw off the attentions of both Natacha Gachnang and Edoardo Piscopo before his race ended following a spin coming out of turn two on the penultimate lap. However the race was red flagged and Hancock was able to keep his tenth-place finish.
Race 2: Aleshin's maiden pole becomes maiden win
Aleshin scored his maiden victory in race two after successfully fending off the attentions of Soucek and Jousse for the entire race.
The Russian made a decent start from pole but had Jousse challenging his lead into the first corner leading to a failed overtake down the inside. The Frenchman lost momentum through turn two as a result, letting Soucek through into second.
Bortolotti failed to get away cleanly from fourth, dropping down the order as a result. Wickens inherited fourth but was unable to challenge the leading trio in the face of a race-long challenge from De Marco.
Then Eng rolled his car at high speed at turn nine on the first lap after contact with another driver but was thankfully completely uninjured.
The leading trio of Aleshin, Soucek and Jousse opened a small gap over Wickens in fourth with Soucek putting Aleshin under heavy pressure throughout, but he was unable to satisfactorily deal with the threat of Jousse behind him. When the chequered flag fell, the top three drivers were separated by little more than one second.
Wickens hung on to fourth, ahead of De Marco and Hegewald with Vasiliauskas seventh, Piscopo eighth, Hohenthal ninth and Iaconelli tenth. Brundle went backwards from sixth on the grid to finish 11th while Moore made a stellar start and held eighth on the opening lap until an unfortunate spin left him way down the order.
View the full race results and standings on the series website here >>