A succession of spectacular crashes split the Monaco Grand Prix into one sprint after another – but Red Bull's Mark Webber was equal to all of them, outclassing the field on his way to a dominant win.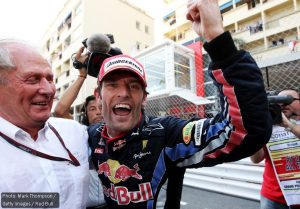 "Absolutely incredible – one of the greatest days of my life," he said. "To win here was very special, it is amazing – to join Ayrton Senna and those guys [as a winner] around here is great.
"I had a lot of work to do – the track changed a lot, backmarkers and lots of safety cars, getting restarts and tyre pressures right – all the basics."
Big accidents for the Williams pairing of Nico Hulkenberg and Rubens Barrichello – both probably caused by mechanical failures – brought out the safety car on laps one and 31, and a loose drain cover added another break to the racing action.
Finally, an optimistic attack by Jarno Trulli in the closing laps saw the Lotus driver climb over the top of Karun Chandhok, the pair almost blocking the road in front of Webber as they came to a halt.
The Australian said: "I saw Jarno doing a lunge down at Rascasse and thought 'what the hell is going on here?' They interlocked wheels and I hoped I would have some room to go. I worried if Karun was okay because it all looked like it was around his head."
Chandhok said: "I am extremely frustrated by the outcome of the race. Jarno hit me out of nowhere, but he has apologised for the incident. This is a big disappointment for the whole team."
One final outing for the safety car saw Webber lead the field sedately towards the chequered flag – but there was still time for one last twist. Inevitably, it involved Michael Schumacher.
The safety car came into the pits on the final lap, apparently allowing green-flag racing around the final corner – Anthony Noghes – and up the short straight to the line.
While most drivers took the safest route home to protect their positions, Schumacher exploited a wobble by Fernando Alonso to shoulder past and into sixth place.
Ferrari protested that overtaking was forbidden when a race ends under caution, even after the point at which the safety car has come off the track, and stewards including Schumacher's old rival Damon Hill announced an investigation.
But Mercedes' Ross Brawn, clutching a sheaf of print-outs and photographs to back up his arguments, maintained the race had not ended in that way as the safety car had come in – which in his view would make late overtakes fair game.
In the end, the stewards backed Alonso and penalised Schumacher 20 seconds in place of a drive-through, removing him from the points and re-classifying him in 12th place.
Not that the squabbles of two former world champions over the minor places were of importance to Webber as he celebrated a win that saw him reel off fastest lap after fastest lap, retaining the lead even when he pitted to change tyres.
With two wins in two races he now takes the lead of the drivers' championship on a tie-break from Vettel, with Red Bull establishing an ominous lead in the constructors' hunt.
Vettel took advantage of starting on the faster side of the grid to pass Renault's Robert Kubica, the Pole scenting an opportunity to overtake Webber that swiftly evaporated to be replaced by the need to defend against Felipe Massa and Lewis Hamilton.
Hamilton said: "I had quite a good start and was challenging the guys in front of me to get third, but it was just impossible. I just looked after the car and tried to get the points – you just can't overtake here, especially if the guys are just as fast as you."
With the first few corners safely negotiated the top five had settled down as Webber, Vettel, Kubica, Massa and Hamilton, and it would stay that way to the end despite the events to follow.
These kicked off with the luckless Hulkenberg, already hamstrung by a clutch paddle problem on his formation lap that forced him to surrender his 11th-place grid position and start from the back.
As he hit the tunnel for the first time he suffered a front wing mounting failure and sailed into the wall at high speed, emerging out of the darkness minus the wing. "I'm not entirely sure what happened in the tunnel," he said. "The car felt odd one minute and the next I was in the wall."
With no crane at the tunnel entrance and the car too bent to be pushed on its wheels, a gaggle of stewards were forced a physically pick it up and carry it off the circuit. This meant a long appearance for the safety car – with major implications for the race.
First Alonso, who had started from the pitlane after breaking his car and missing qualifying, took the opportunity to get his mandatory pitstop out of the way and rejoin with no loss of position. This gave him a huge strategic boost and ensured he would feature well in the points when everyone else pitted on schedule.
Then an astonishing mistake by McLaren came home to roost, ending Jenson Button's race. The world champion had been sent out on track with one of his sidepods still blocked with a protective plate.
He said: "We left a bung in on the left-hand side of the car that obviously you're meant to take out on the way to the grid, and that's cooked the engine. It got very hot under the bonnet and I had to turn it off. I didn't want to leave oil on the race line."
"It would have been fine if we hadn't had the safety car. That was what ended it. At such a slow speed you can't get any air into it to cool it down."
Once the race resumed, on-track action was mainly limited to Alonso picking off the Virgin and Lotus drivers one by one until the pitstops. These left the Spaniard ahead of the two Mercedes cars and chasing Hamilton.
The next batch of retirements soon followed, removing both Virgin cars and both Saubers without inconveniencing the rest of the field. Barrichello's exit, after having run as high as sixth, was another matter altogether.
A suspected failure somewhere at the rear of his car sent him spinning into the barriers at the approach to Massenet, eventually coming to a halt missing both front and rear wings and with two wheels attached only by their tethers. Frustrated, he threw his steering wheel onto the track – where it was run over by a Hispania.
The ensuing safety car wiped out Webber's lead but he rapidly built it back up before the next disruption on lap 44, when a drain cover was noticed to be loose close to the site of Barrichello's crash.
Once again Webber responded by pulling away from Vettel and the tension during most of the rest of the race centred on whether Kubica was closing in on second or whether Schumacher was catching Alonso.
But then Trulli made his move on Chandhok and the end of the race was thrown into confusion.
Monaco Grand Prix results
Mark Webber, Red Bull: 1:50:13.355 (25 points)
Sebastian Vettel, Red Bull: +00:00.448 (18 points)
Robert Kubica, Renault: +00:01.675 (15 points)
Felipe Massa, Ferrari: +00:02.666 (12 points)
Lewis Hamilton, McLaren: +00:04.363 (10 points)
Fernando Alonso, Ferrari: +00:06.341 (8 points)
Nico Rosberg, Mercedes GP: +00:06.651 (6 points)
Adrian Sutil, Force India: +00:06.970 (4 points)
Vitantonio Liuzzi, Force India: +00:07.305 (2 points)
Sebastien Buemi, Toro Rosso: +00:08.199 (1 point)
Jaime Alguersuari, Toro Rosso: +00:09.135
Michael Schumacher, Mercedes GP: +00:05.712 (penalised 20 seconds)
Vitaly Petrov, Renault: retired after 73 laps
Karun Chandhok, Hispania: crashed after 70 laps
Jarno Trulli, Lotus: crashed after 70 laps
Heikki Kovalainen, Lotus: retired after 58 laps
Bruno Senna, Hispania: retired after 58 laps
Rubens Barrichello, Williams: crashed after 30 laps
Kamui Kobayashi, BMW Sauber: retired after 26 laps
Lucas di Grassi, Virgin: retired after 25 laps
Timo Glock, Virgin: retired after 22 laps
Pedro de la Rosa, BMW Sauber: retired after 21 laps
Jenson Button, McLaren: retired after 2 laps
Nico Hulkenberg, Williams: crashed after 1 lap
Drivers' standings
Points-scorers only are included.
Mark Webber, Red Bull: 78 points (includes two race wins)
Sebastian Vettel, Red Bull: 78 points
Fernando Alonso, Ferrari: 75 points
Jenson Button, McLaren: 70 points
Felipe Massa, Ferrari: 61 points
Lewis Hamilton, McLaren: 59 points
Robert Kubica, Renault: 59 points
Nico Rosberg, Mercedes GP: 54 points
Michael Schumacher, Mercedes GP: 22 points
Adrian Sutil, Force India: 20 points
Vitantonio Liuzzi, Force India: 10 points
Rubens Barrichello, Williams: 7 points
Vitaly Petrov, Renault: 6 points
Jaime Alguersuari, Toro Rosso: 3 points
Sebastien Buemi, Toro Rosso: 1 point
Nico Hulkenberg, Williams: 1 point
Constructors' standings
Points-scorers only are included.
Red Bull: 156 points
Ferrari: 136 points
McLaren: 129 points
Mercedes GP: 76 points
Renault: 65 points
Force India: 30 points
Williams-Cosworth: 8 points
Toro Rosso-Ferrari: 4 points