The start of the 2011 Formula One season looked very much like the end of the 2010 one as Red Bull's Sebastian Vettel scampered away into the distance from pole position, leaving his rivals to scrabble for scraps behind him.
For all the pre-season talk of races made unpredictable by adjustable rear wings, the return of KERS and the need to get to grips with new tyre supplier Pirelli, there were only a handful of laps in the Australian Grand Prix where second-place Lewis Hamilton showed any sign of doing more than matching the reigning world champion's pace.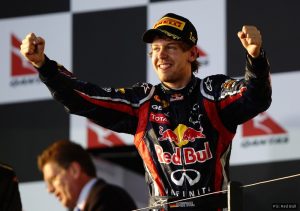 Carefully-timed tyre changes restored the German's advantage, and the pressure from his McLaren rival disappeared completely towards the end of the race when Hamilton suffered a damaged floor that affected his car's performance.
Vettel said: "I got a cushion on lap one and we tried to hold the gap for the first stint. When the tyres went off, Lewis caught up and we came in. I think it was the right time, as I couldn't have done more laps. In the second part of the race I didn't know what was gong on behind Lewis, if he was under pressure or not, but towards the end of the race I could control it more.
"We learned a lot of things today. It's good coming here after a long winter and setting the pace."
Given how bad this year's McLaren looked in early testing, Hamilton was happy a second place that owed much to his use of KERS to hold off Mark Webber at the start – the Red Bull cars did not use the energy recovery system during the race.
He said: "Second position is a great result. The car felt fantastic, really nice to drive, and I was able to look after my tyres throughout the race. If it hadn't been for the poor start, we could have been in the fight. So I think we should be excited.
"I don't really know what happened with the floor, but it didn't feel too bad to drive. After the race I had a look at it, and it looked quite badly damaged. I was just glad to be able to bring the car home, I was nursing it.
"I'm looking forward to going to Malaysia, which is probably the toughest race of the year. I'm also looking forward to seeing what additional performance we can bring – I think we can challenge for the win at Sepang."
Behind Vettel and Hamilton, a strong-starting Vitaly Petrov found himself perfectly positioned to take advantage of problems suffered by Webber, Jenson Button and Fernando Alonso. The Russian soon moved up into third and was able to hold the position with relative ease to the flag, despite a late challenge from Alonso.
Afterwards, he said: "I'm delighted to be here on the podium, especially after the winter that we had as a team, which was very tough."
While Webber's problems were largely down to a lack of speed – he parked his car just yards after crossing the line without doing a cool-down lap – both Button and Alonso dropped back at the start. The Ferrari driver was forced wide, losing places, but recovered to fourth. Button found himself behind Felipe Massa and spent several laps aggressively searching for a pass, eventually getting through thanks to missing a chicane.
Although he maintained Massa had forced him into the short-cut the stewards disagreed. Ferrari quickly pitted Massa, preventing Button from giving the place back, and the only possible outcome was a drive-through penalty. The McLaren driver spent the rest of the race recovering and he did well to cross the line in sixth.
He said: "I got an okay start, but I was surprised to see Vitaly up the inside – he got a very good start and forced me wide. Then I got stuck behind Felipe, because I got a very poor exit out of Turn One, and that was the worst move of my race, because he was so slow and difficult to overtake.
"I tried to overtake him around the outside of Turn 11. I was in front before we turned in, but he went really deep into the corner and pushed me wide so that I couldn't take my normal line. After my drive-through penalty I had to fight my way back, which was fun but also frustrating.
"I just wish I could have got the best out of it today, but at least Lewis did a good job. We should be very happy with our pace though. We'll have upgrades for the next race, but the car is still very new and there are plenty of changes we can make to hone the package."
Team boss Martin Whitmarsh added: "When you consider where we were a few weeks ago, you'd have to say that for us to come away from Australia with 26 world championship points is a pretty decent outcome. More important, though, it means that we've got a very promising platform from which to develop our car."
Behind the main points-scorers, the story of the day was the Sauber team. On a day when other fancied midfield outfits like Mercedes and Williams came unstuck, rookie Sergio Perez crossed the line seventh with team-mate Kamui Kobayashi behind him in eighth.
Team boss Peter Sauber called it a "dream start" to the season but it swiftly turned into a nightmare when his cars failed post-race scrutineering because of the shape of their rear wings and were disqualified.
The team is to hold an internal investigation into why the part had been designed incorrectly. Technical director James Key said: "We didn't know anything about it until after the race. It's possibly an oversight, certainly not intentional, and is nothing to do with F-ducts or anything else that circumvents the regulations. It is also not performance enhancing, as what happens on top of the element is incidental."
Sauber will appeal against the disqualification but, assuming the ruling stands, their misfortune is Force India's gain as both drivers from the Silverstone-based team – rookie Paul di Resta and returning veteran Adrian Sutil – have been promoted into the points as a result.
Until the stewards made their decision, the team had been somewhat underwhelmed by their result. While happy with their reliability, and with Di Resta's solid Formula One debut, finishing 11th and 12th was not what they had hoped for.
Before he knew he'd been promoted into the points Di Resta, the reigning DTM champion, said: "We had quite a good start and fight with Kobayashi, but that allowed one of the Toro Rossos by and from there we lost a bit of momentum.
"Our pace was just a little bit behind today, but hopefully by Malaysia we will be able to understand why and, when the upgrades come, perform a bit better. Adrian and I were on different strategies and we had to fuel conserve toward the end that's why the gap opened up. I am going into Malaysia to try to do a better job than I did here today, but overall I am relatively happy."
Force India's unspectacular efficiency contrasted with the lurid outings of some of its rivals. Michael Schumacher and Nick Heidfeld both saw their races ruined by first-lap damage: Mercedes' Schumacher retired from the race after lapping for a while in last place, while Renault's Heidfeld toiled on to the end.
For Williams, Pastor Maldonado suffered a mechanical failure on just the ninth lap while team-mate Rubens Barrichello ended the race for Mercedes rival Nico Rosberg by spearing into him during an over-optimistic overtake. The Brazilian lasted long enough afterwards before retiring to be given a drive-through by stewards for the manoeuvre.
Formula One moves to Malaysia for its next race, with Vettel looking ominously strong despite the lack of functional KERS on his car. In Australia its absence didn't stop him recording his first win at the circuit, after which he still had plenty left in the tank to help former Red Bull driver and current BBC commentator David Coulthard celebrate his 40th birthday with a large cake, much of which ended up smeared on the Scot's face.