Lewis Hamilton pushed McLaren to the top of the unofficial timesheets in Barcelona today, also helping to secure the fastest combined performance for the team in three of the four Spanish winter test sessions.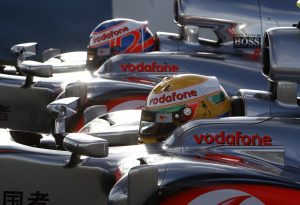 In Valencia at the beginning of February, where only a few of the teams had launched their cars, Ferrari were comfortably fastest with Fernando Alonso narrowly beating team-mate Felipe Massa to the fastest time for the combined sessions.
But in both Jerez tests and at Barcelona Jenson Button and Lewis Hamilton have scored the fastest laps – making it tempting to conclude that this is one statistic McLaren really cares about after its bloody experiences in 2009.
Hamilton's time, set in the wake of aerodynamic upgrades brought out to Barcelona the previous day, came while he was working on qualifying then race simulations.
The team said: "Lewis was back in the car today, continuing the understanding, evaluation and development of new components that Jenson had started yesterday. With a more innate understanding of the new package, Lewis' engineers were able to spend the morning fine-tuning MP4-25's set-up while also carrying out a number of pitstop practices.
"At the end of the morning, the team undertook several simulated qualifying runs, thrilling the crowds by going head to head with Felipe Massa and Michael Schumacher, who were also carrying out similar work. For the final afternoon, the team ran another race simulation, carrying out three 22-lap stints.
"At the end of the day, Lewis declared himself happy and comfortable with the new car and told his engineers that he's now looking forward to Bahrain. The whole team keenly shares his sentiments."
Next in line was Red Bull's Mark Webber, with a time of 1:20.496 – just a few hundredths of a second slower. He shared today's testing duties with team-mate Sebastian Vettel, whose fastest lap of 1:20.667 put him fifth on the timesheet.
In third place was Massa with a fastest time of 1:20.539 and Adrian Sutil right behind him for Force India on 1:20.611.
Michael Schumacher for Mercedes GP showed just how little there is to choose between the top teams as his time of 1:20.745 placed him sixth on the timesheet. Williams' Rubens Barrichello, who had a difficult day, and BMW Sauber's Kamui Kobayashi also rounded off the day with sub-1:21 times.
Rounding out the top ten were Renault's Robert Kubica and Lotus' Heikki Kovalainen while Lucas di Grassi for Virgin remained some six seconds off the leaders' pace as the team struggled with its ongoing hydraulics issues.
Barcelona test times day four
Lewis Hamilton, McLaren: 1:20.472 (134 laps)
Mark Webber, Red Bull: 1:20.496 (59 laps)
Felipe Massa, Ferrari: 1:20.539 (113 laps)
Adrian Sutil, Force India: 1:20.611 (99 laps)
Sebastian Vettel, Red Bull: 1:20.667 (76 laps)
Michael Schumacher, Mercedes GP: 1:20.745 (122 laps)
Rubens Barrichello, Williams: 1:20.870 (83 laps)
Kamui Kobayashi, BMW Sauber: 1:20.911 (67 laps)
Sebastien Buemi, Toro Rosso: 1:22.135 (87 laps)
Robert Kubica, Renault: 1:23.175 (106 laps)
Heikki Kovalainen, Lotus: 1:25.251 (65 laps)
Lucas di Grassi, Virgin: 1:26.160 (47 laps)
Combined times for Barcelona testing
Lewis Hamilton, McLaren: 1:20.472 (Sunday) 227 laps
Mark Webber, Red Bull: 1:20.496 (Sunday) 168 laps
Felipe Massa, Ferrari: 1:20.539 (Sunday) 228 laps
Adrian Sutil, Force India: 1:20.611 (Sunday) 160 laps
Nico Hulkenberg, Williams: 1:20.614 (Friday) 180 laps
Fernando Alonso, Ferrari: 1:20.637 (Friday) 208 laps
Sebastian Vettel, Red Bull: 1:20.667 (Sunday) 252 laps
Nico Rosberg, Mercedes GP: 1:20.686 (Saturday) 235 laps
Michael Schumacher, Mercedes GP: 1:20.745 (Sunday) 207 laps
Rubens Barrichello, Williams: 1:20.870 (Sunday) 184 laps
Kamui Kobayashi, BMW Sauber: 1:20.911 (Sunday) 172 laps
Pedro de la Rosa, BMW Sauber: 1:20.973 (Friday) 187 laps
Vitantonio Liuzzi, Force India: 1:21.056 (Friday) 154 laps
Sebastien Buemi, Toro Rosso: 1:21.413 (Saturday) 193 laps
Jenson Button, McLaren: 1:21.450 (Saturday) 205 laps
Jaime Alguersuari, Toro Rosso: 1:21.571 (Friday) 215 laps
Vitaly Petrov, Renault: 1:22.523 (Saturday) 141 laps
Robert Kubica, Renault: 1:23.175 (Sunday) 159 laps
Jarno Trulli, Lotus: 1:25.059 (Saturday) 172 laps
Heikki Kovalainen, Lotus: 1:25.251 (Sunday) 65 laps
Timo Glock, Virgin: 1:25.942 (Friday) 83 laps
Lucas di Grassi, Virgin: 1:26.160 (Sunday) 78 laps
Fairuz Fauzy, Lotus: 1:28.002 (Thursday) 76 laps