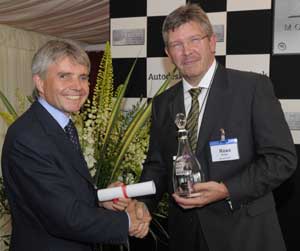 Breaking news: Ross Brawn is outstandingly good at what he does, and has been recognised by his colleagues as such. Oh wait…
No, no, no, this is a news story, despite the fact that you may not yet be able to detect any news in it. Here's the happening bit: the architect of Brawn GP's fairytale season and the saviour of Jenson Button's career has been presented with a Motorsport Industry Association (MIA) Award for the most outstanding contribution to the motorsport industry.
The award was presented by Lord Drayson, Minister of State for Innovation, and a racing driver in his own right, at the MIA's annual Summer Reception at the House of Lords.
(Remember Lord Drayson. He successfully completed this year's 24 Hours of Le Mans in his GT2-class Drayson Racing Aston Martin – and we're hoping to bring you a little more about him very soon.)
Previous winners of the award include Professor Sid Watkins, President of the FIA Instititute for Motor Sport Safety, Lord March, Sir Frank Williams, Sir Stirling Moss and Sir Jackie Stewart, as well as Tom Wheatcroft, David Richards and Bernie Ecclestone.
Ross Brawn's career in racing started 33 years ago as a machinist at March – and from those humble beginnings he has gone on to win a World Sportscar Championship with the TWR Jaguar XJR-14. Oh yes, and the small matter of eight F1 championships with Benetton and Ferrari, of course.
MIA CEO, Chris Aylett said: "His exceptional race engineering talent is coupled with integrity, sincerity and humility — a rare combination in this aggressive competitive sport.
"His personal contribution has benefited many in this global industry — employees, suppliers and drivers. His influence makes motorsport and F1 a better place to be.
"Ross is a great inspiration to young engineers who we need to help us improve our future. As patron of Formula Student, for example, he is putting something back into tomorrow's generation.
"F1 leaders can be great ambassadors for global motorsport – Ross is one of the new breed who will ensure its popularity will last well into the future."
According to Brawn GP, the MIA's summer reception, hosted by MIA President Lord Astor of Hever, is regarded as the most prestigious social gathering on the international motorsport business calendar.
The 2009 reception was attended by more than 300 guests, including peers, ministers of state, ambassadors, MPs and leaders from the international motorsport industry.