McLaren drivers Lewis Hamilton and Heikki Kovalainen have put in the fastest laps of today's practice sessions at the Hungaroring to take a stunning and unexpected one-two at the top of the unofficial timesheets.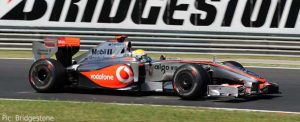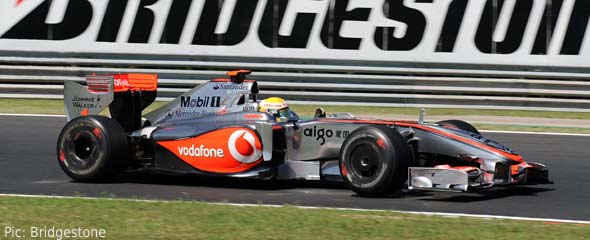 Kovalainen topped the first session with a fastest time of 1:22.278, narrowly ahead of Williams' practice star Nico Rosberg on 1:22.337 and team-mate Hamilton on 1:22.554.
Then Hamilton jumped to the top in the afternoon session, notching up 1:22.079, with Kovalainen on 1:22.126 – a few hundredths ahead of third-placed Rosberg on 1:22.154.
Hamilton's car pioneered new aero upgrades at the Nurburgring a fortnight ago, which were looking promising until a first-lap coming together with Red Bull's Mark Webber ruined his race, and this weekend Kovalainen has the same.
Could the beleagured Woking team be on for a podium? Stranger things have happened.
Warmer temperatures during the session means that tyre temperature – supposedly the difference between championship rivals Brawn and Red Bull in recent races – should have been less of an issue than during Formula One's last two stops in Britain and Germany.
Immediately behind the leading three in the second session was Nurburgring victor Mark Webber in the Red Bull, despite hydraulics problems. Behind him were team-mate Sebastian Vettel, experiencing front suspension difficulties, and followed by Williams' Kazuki Nakajima.
The notoriously dirty track caused problems for some drivers, most notably Felipe Massa who suffered several offs and could manage to come no faster than 18th overall in the faster second session.
Both Brawn GP cars were in the lower half of the field, somewhat worryingly for people hoping that better weather would ameliorate the team's persistent problems with tyre temperatures and ensure they were a force to challenge Red Bull.
However this weekend the BGP 001s will be fitted with new diffusers, rear wings and further bodywork modifications in a bid to regain some of their lost advantage.
Jaime Alguersuari, F1's newest recruit after Sebastien Bourdais was removed from the Toro Rosso car to make room for him following the German Grand Prix, managed to keep his nose clean through both sessions, coming last but getting respectably close to the times set by team-mate Sebastien Buemi.
He used the sessions to get as much experience of the track and car as possible, putting in 82 laps throughout the day, one of the highest totals of any driver. The Toro Rosso car will be sporting aero upgrades this weekend with a new diffuser, front wing and nose, and top bodywork making its debut.
Session two times
Lewis Hamilton, McLaren: 1:22.079 (36 laps)
Heikki Kovalainen, McLaren: 1:22.126 (36 laps)
Nico Rosberg, Williams: 1:22.154 (47 laps)
Mark Webber, Red Bull: 1:22.369 (29 laps)
Kazuki Nakajima, Williams: 1:22.426 (40 laps)
Sebastian Vettel, Red Bull: 1:22.550 (30 laps)
Rubens Barrichello, Brawn: 1:22.641 (38 laps)
Jarno Trulli, Toyota: 1:22.663 (28 laps)
Nick Heidfeld, BMW Sauber: 1:22.690 (43 laps)
Timo Glock, Toyota: 1:22.751 (45 laps)
Kimi Raikkonen, Ferrari: 1:22.763 (38 laps)
Fernando Alonso, Renault: 1:22.793 (37 laps)
Jenson Button, Brawn GP: 1:22.806 (42 laps)
Robert Kubica, BMW Sauber: 1:22.870 (36 laps)
Nelson A Piquet, Renault: 1:22.927 (36 laps)
Adrian Sutil, Force India: 1:22.978 (28 laps)
Giancarlo Fisichella, Force India: 1:23.029 (39 laps)
Felipe Massa, Ferrari: 1:23.156 (32 laps)
Sebastien Buemi, Toro Rosso: 1:23.176 (45 laps)
Jaime Alguersuari, Toro Rosso: 1:23.942 (40 laps)
Session one times
Heikki Kovalainen, McLaren: 1:22.278 (21 laps)
Nico Rosberg, Williams: 1:22.337 (27 laps)
Lewis Hamilton, McLaren: 1:22.554 (20 laps)
Mark Webber, Red Bull: 1:22.615 (21 laps)
Kazuki Nakajima, Williams: 1:22.619 (25 laps)
Jarno Trulli, Toyota: 1:22.705 (17 laps)
Kimi Raikkonen, Ferrari: 1:22.796 (23 laps)
Felipe Massa, Ferrari: 1:22.855 (25 laps)
Fernando Alonso, Renault: 1:23.001 (28 laps)
Jenson Button, Brawn GP: 1:23.130 (25 laps)
Robert Kubica, BMW Sauber: 1:23.146 (24 laps)
Nick Heidfeld, BMW Sauber: 1:23.154 (23 laps)
Rubens Barrichello, Brawn GP: 1:23.209 (24 laps)
Timo Glock, Toyota: 1:23.234 (30 laps)
Sebastian Vettel, Red Bull: 1:23.283 (25 laps)
Giancarlo Fisichella, Force India: 1:23.484 (20 laps)
Nelson A Piquet, Renault: 1:23.678 (22 laps)
Adrian Sutil, Force India: 1:23.845 (18 laps)
Sebastien Buemi, Toro Rosso: 1:23.998 (37 laps)
Jaime Alguersuari, Toro Rosso: 1:24.228 (42 laps)