Felipe Massa dominated the European Grand Prix from start to chequered flag – but his win was mired in controversy after stewards chose to delay investigating a possible penalty until after the race had finished.
The Brazilian drove an impressively consistent race to steadily build a lead that closest rivals Lewis Hamilton and Robert Kubica had no answer to. His eventual margin of victory was more than five seconds.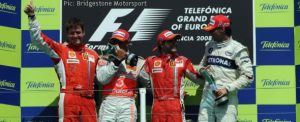 But if his on-track performance was untroubled, the same cannot be said of his second pit stop. Massa was released by his team right into the path of Force India's Adrian Sutil, who was travelling at the maximum speed allowed in the pit lane and had to pull as close as possible to the wall to avoid a collision.
Massa was blameless in the incident, and no harm was done to either car's race performance – the Ferrari driver kept his winning advantage, and Sutil retired a few laps later after hitting a barrier.
But stewards announced they intended to investigate the team for an unsafe release from the pit stop – and any sort of drive through penalty would certainly have cost Massa his win. Then, a few laps later, the word came that the investigation would take place after the race had finished.
While commentators flicked through their rules books in a vain hunt for the reasoning behind this, Ferrari spokesman Luca Colajanni argued that no penalty would be needed as Sutil had not been disadvantaged.
Later, Massa's race engineer Rob Smedley dismissed it as a "silly little incident". Stewards were not quite so forgiving, choosing to fine the driver 10,000 Euros and reprimand him.
Behind this drama, Kimi Raikkonen and Fernando Alonso had days to forget.
The Finn lost a place to Heikki Kovalainen at the start, injured a pit crew member by pulling away before his refuelling rig could be removed, then retired trailing a plume of smoke as his engine expired in a failure similar to the one that cost Massa victory in Hungary.
But at least he had the experience of running in the top five for most of the race – home favourite Alonso was smacked out of the race on the first lap when Kazuki Nakajima rammed him from behind and removed his rear wing.
The Renault driver retired to his garage, where his team was eventually forced to abandon its efforts to please the crowd by patching him up and sending him out again.
Aside from these incidents, the race provided precious little to get excited about as the new Valencia Street Circuit – for all its impressive design and location – served up one of the most processional contests of the season.
Behind Massa and Hamilton came Kubica and Kovalainen. Jarno Trulli and Sebastian Vettel turned their good qualifying performances into points with fifth and sixth places, while Timo Glock used a one-stop strategy to climb into seventh ahead of Nico Rosberg.
Afterwards, Massa said: "I think it is amazing – after such a bad result to come here to a new track which was new for everybody. We did a fantastic job. There is nothing more we can ask for, especially after such a bad result, which we still need to work on as we had another problem with Kimi.
"We have to move forward and there are so many important races in front. I am so happy after such a disaster in Hungary."
Asked about the incident with Sutil, he pointed out that he'd slowed down when he realised there was a danger of a collision, and seemed to put the blame on his rival.
He said: "I stopped behind him, we left together. When he was passing by we were side by side. I was the leader and he was a lapped car. The wall was narrow, I didn't want to take the risk."
Hamilton, who increased his lead in the drivers' championship as Massa replaced Raikkonen in second, said: "I cannot complain with second place. We have had quite a strong weekend – we got some good points, so overall a solid weekend for us.
"At the start obviously I was on the dirty side. I got a reasonably start but nowhere near as quick as Felipe. I had to hold my spot and Robert was pushing quite hard for a couple of corners. I was trying to keep up with Felipe, he was in front and it was pretty hard to overtake here.
"I have had a traumatic weekend – I had a few problems health-wise but seemed to pull through. I don't think this track is that physical, just that it is hot – you don't have enough water in the car. It has been a hot weekend, wearing these big suits is like driving in a sauna, but I am happy with how we got through it."
Jenson Button gained some places at he start and held them as the race settled down, allowing him to claim 13th by the end. He said: "I had a good start to the race and gained three places to 13th but that was the highlight of my race really.
"We made things difficult for ourselves by qualifying so far back on the grid after we had expected to perform a lot better. I was heavily fuelled compared to most others and running long on a one-stop strategy, but I was stuck behind Heidfeld when he had already pitted which cost me some time as I didn't have the pace to overtake him.
"We ran the option tyre for the second stint, which was initially fine but then the rears went away quite badly due to the rear brakes overheating."
David Coulthard's only chance to race at Valencia proved turbulent, as he was knocked into a spin on the first lap, then side-slapped Adrian Sutil while attempting to overtake him and found himself facing the wrong way for a second time. The Scot eventually took the flag in 17th, the final car to finish.
He said: "I was hit from behind on the first lap. I came back and passed a couple of cars, but when I tried to pass one of the Force Indias, I aborted the manoeuvre and made contact with them, so sorry to them for that. That damaged my barge board and the side of the car, so after that the balance and downforce were very poor."