It's been a reflective few days for veteran racer David Coulthard, who reversed a run of dismal form with an unexpected – but very welcome – podium in the Canadian Grand Prix.
The Scot is widely predicted to end his Formula One career when this season finishes, but he has nothing to say about that matter in a series of interviews conducted before, during and after race day in Canada.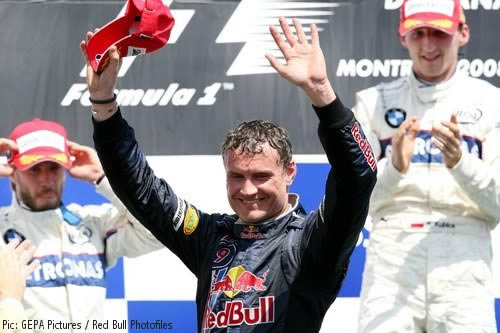 David Coulthard on the podium in Canada
A long radio interview before the race, his post-race press conference, his ITV-F1 website column, and an interview with the official Formula One site during the recent Barcelona tests have all provided plenty of material to pore over if your aim is to predict whether he expects to be racing in F1 next year.
At times he seems to be taking the long view of his career, in the manner of one who is summing it up as it draws to a close. But if he secretly fears that's what's happening he's quick to close off discussion of the subject when it's raised.
Instead, he dwells on the influence he has personally had on the development of Red Bull as a team since the energy drinks company took over the ailing Jaguar Racing and signed Coulthard, newly exiled from McLaren, as an elder statesman to mentor the younger drivers progressing through its development programme.
For the most part, the younger drivers have faded away – but Coulthard remains.
Before the Canadian race he told Radio 5 Live's Holly Samos that he had joined Red Bull because he had still been committed to racing at the highest level and was convinced the new team would give him the opportunity to contribute both in and out of the car.
He said: "Here we are, three and a bit years on, and the team is sitting in front of Honda, Toyota and Renault, who are our engine suppliers, in the constructors' championship.
"Now, I know that some listeners will go 'well, that's nothing to do with you this year, because you haven't scored any points', but that would be a very short-sighted view because I've been part of the process of bringing certain people to the team, I've been part of the process of developing the car, bringing opinions to the engineers and designers.
"Being a driver isn't just turning up on a weekend, doing the race and then going home. It's so much more than that, as was demonstrated famously by Schumacher when he went to Ferrari. They hadn't won for 20-odd years but a few years of struggling and then suddenly they reached a period when they were dominant."
He stressed that, enjoyable though the development work is for him, he hasn't lost his fire for the racing: "Having been involved for so long my enthusiasm to be here at Montreal, my excitement to be out on track, is undiminished," he said.
And it showed in the open pleasure on his face as he stood on the podium, savouring the moment, after a combination of attrition and fortuitous race strategy had handed him what might turn out to be a final trip to the post-race celebrations.
In the press conference afterwards he was clearly in a mood to look back on his long career, saying: "Well, I think it is my 62nd podium and I am as delighted to be there as I was in 1994 when I had my first podium. Canada is where I scored my first points in 1994.
"I am in a reflective mood in my career as obviously 15 seasons is a long time for anyone, especially after such an ugly start to this season. It is great to see the younger guys enjoying their first victories. I am very happy for Robert and for BMW."
But if that all sounded like a man contemplating passing the torch to the next generation, there was no sign of the sentiment when he was reminded by a journalist that his ex-team mate Mika Hakkinen had said the biological clock ticks for everyone and even DC's motivation must eventually fade.
He replied: "Definitely the clock is ticking and I'm delighted about that because I've had a great journey in my career and through life and the alternative doesn't excite me very much.
"I appreciate that Mika brought his career to an end relatively quickly and I think on reflection probably too quickly. I don't feel that I've done that and I guess most of you would agree. I've enjoyed it to the maximum. We're all different, we all make our choices and I'm delighted with the choices that I've made."
In his ITV-F1 website column later he explained that the reflectiveness was nothing to do with slowing gently down and everything to do with how the criticism thrown at him for his unproductive start to the season was finally starting to have an effect.
He said: "I did mention after the race that I have been in a reflective mood about my career lately. What I was alluding to is that with six races down, a spate of incidents and no points on the board, the spotlight gets shone on you and questions get asked – so you inevitably start wondering, 'Am I doing something fundamentally wrong here, have I lost my mojo?'
"You just have to look back and make sure that you've taken rational decisions and you're on the right track. Of course, with the benefit of hindsight, I would change some of the decisions that I made earlier in the season, but those were less a case of making rash or ill-judged moves and more about understanding the risks that some other drivers would take in order to get past me.
"I'm satisfied that I'm performing at a high level and delighted to finally have a tangible result to show for it."
And he told the official Formula One website that it felt "phenomenal" to post a result that silenced the critics – if only temporarily.
He said: "I am long enough in the sport to know that you are only as good as your last result – and the previous six results didn't look so good, though of course I know that it was because of circumstance rather then a lack of pace or a lack of desire – quite the contrary.
"So to have such good pace in Canada, and to have a bit of luck on your side – even if those three cars had not crashed in the pit lane I believe I had it to be seventh. That's of course not as good as a podium, but would still be a strong result for where we are as a team, as we know that the two Ferraris, the two McLarens and the two BMWs are quicker.
"Normally you're fighting over seventh position with Toyota, Honda and Williams. So, all of that said, I delivered – and it shuts people up for a few weeks!"
He returned to his role in building Red Bull Racing as a future championship contender, saying it was not particularly surprising to see the team in fourth place in the championships: "It's surprising only in that we are competing against such well established teams: Honda, Toyota, Williams and, of course Renault.
"It is a very optimistic goal, but on the other hand it is realistic because if we as a team are going to be a serious team in the future we have to be moving forward each year.
"One thing I am particularly proud of is that when I joined the team it was the challenge of trying to take the team forward. I believed in Mr Mateschitz's commitment financially to find the right people – and obviously I helped to bring in people like Adrian (Newey), and slowly but surely we have taken out those that don't fit within the organisation – and we are moving forward.
"It looks as if the team is building a solid foundation and that is especially satisfying as it shows that I influence the direction not only in the car but outside it as well.
"How long will the fourth position will last? There is no reason why we should not be able to maintain that throughout the year. After seven races we've scored more points than Renault, Toyota, Honda and Williams. What we need to focus on is to have both cars continue to score points."
So far this season that's been a tall order for Red Bull Racing, with Mark Webber's strong run of form that coincided with DC's poor results coming to an abrupt end in the race that saw Coulthard finally score points.
If the Scot can't maintain a level of performance that keeps him in the hunt for points, then inevitably the questions about his future will begin again. But, as he made it clear to Samos in her interview before the Canadian race, he's in no hurry to answer them.
He told her it was far too early to be talking about that sort of thing: "I get asked so much now about what my plans are for the future. When there's a moment to announce what my plans are for the future, then I'll announce it. But this is not the time to do it, for various reasons.
"My motivation, as we sit here, remains behind the wheel. That's where I can influence most the team, that's where I can deliver results. There will be a point in the future, however far down the line that happens to be, where that ceases to be the case.
"And then I will want to use my enthusiasm and energy and experience still within the sport because I enjoy very much what I am able to do in Formula One and the environment. I don't feel the need to suddenly go off and do something else.
"I could just actually sit at home and live off my investments and I'd probably have a very happy, healthy life. But I like a challenge. And in Formula One you're able to get that challenge."