Toyota's Timo Glock gave the home fans at the Fuji Speedway something to cheer by topping the timesheets in Friday practice for the Japanese Grand Prix.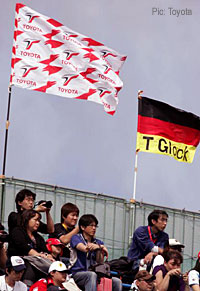 The German used his one permitted free engine change to set the day's fastest lap in the second practice session, but only half a second separated the fastest 11 drivers and no-one was much more than 1.6 seconds off the pace.
Glock's fastest lap came despite his being a newcomer to the circuit owned by his employers: "This was the first time I have driven at the Fuji Speedway so I had to learn the track this morning. It didn't take too long – two or three laps, but it's not an easy circuit."
A businesslike Fernando Alonso set the second-fastest time of the day, but didn't let it go to his head. He said: "We covered lots of laps, which was the priority and that allowed us to advance with our programme. The first signs are therefore encouraging and we will now review our data and work on our settings ahead of the final free practice session."
The first session had been slower, with McLaren's Hamilton and Ferrari's Felipe Massa at the top of the timesheets ahead of their team-mates.
Hamilton said: "Fuji is a place I really enjoy: it's not the easiest of tracks because it requires a good set-up to get the best from the car, but I had no complaints today.
"We were immediately on the pace and found a very good balance straight away. In the afternoon, I did a promising longer run with no major problems and I feel confident about our pace for the rest of the weekend."
Championship rival Felipe Massa was three hundredths of a second behind Hamilton in the second session, but thought he could have ended higher: "The times are very close and maybe I could have been a bit further up the order in the afternoon session if I had not encountered traffic on my last run on the soft tyres."
David Coulthard had a torrid time and sounded like he won't be sorry to see the back of Fuji when he retires: "I had low grip through the last sector, which meant the car had a lot of oversteer and was sliding. There is a contrast in coming here from somewhere like Singapore, which is a challenge and fun to drive.
"This track includes blind apexes and off-camber corners. It doesn't matter if you're a racing driver or a punter, a nice corner is a nice corner, and they tend to be ones where you see into them, or it's banked and you ride the corner. In contrast, you don't normally see them here before you're on them, or it's off camber so the car slides at the rear.
"It looks good on TV, but these cars don't generate high levels of slip angle and go fast, so it means you lose some lap time – but that's the challenge of this circuit."
Jenson Button was slowest of all 20 cars, suffering from the notorious difficulty of setting up a car to handle both Fuji's long main straight and some of its fiddlier corners.
He said: "We were able to make progress on the balance of the car on older tyres by the end of the afternoon session, however achieving a good balance was our main problem throughout the day. On new tyres at the end of the second session, I just had very little grip and it felt like the tyres were graining immediately. We will have to look at the reasons for this ahead of qualifying tomorrow."
Practice times
Second session
Glock – Toyota: 01:18.38
Alonso – Renault: 01:18.43
Hamilton – McLaren-Mercedes: 01:18.46
Massa – Ferrari: 01:18.49
Raikkonen – Ferrari: 01:18.73
Webber – Red Bull: 01:18.73
Nakajima – Williams: 01:18.73
Vettel – Toro Rosso: 01:18.76
Kovalainen – McLaren-Mercedes: 01:18.80
Trulli – Toyota: 01:18.86
Kubica – BMW Sauber: 01:18.87
Piquet – Renault: 01:18.89
Rosberg – Williams: 01:18.98
Bourdais – Toro Rosso: 01:19.04
Barrichello – Honda: 01:19.26
Sutil – Force India: 01:19.29
Coulthard – Red Bull: 01:19.33
Fisichella – Force India: 01:19.48
Heidfeld – BMW Sauber: 01:19.89
Button – Honda: 01:20.00
First session
Hamilton – McLaren-Mercedes: 01:18.91
Massa – Ferrari: 01:19.06
Kovalainen – McLaren-Mercedes: 01:19.28
Raikkonen – Ferrari: 01:19.40
Alonso – Renault: 01:19.47
Piquet – Renault: 01:19.74
Vettel – Toro Rosso: 01:20.12
Kubica – BMW Sauber: 01:20.16
Bourdais – Toro Rosso: 01:20.18
Nakajima – Williams: 01:20.22
Sutil – Force India: 01:20.29
Rosberg – Williams: 01:20.35
Webber – Red Bull: 01:20.62
Heidfeld – BMW Sauber: 01:20.63
Trulli – Toyota: 01:20.66
Barrichello – Honda: 01:20.75
Button – Honda: 01:20.77
Glock – Toyota: 01:20.82
Coulthard – Red Bull: 01:20.91
Fisichella – Force India: 01:21.01