Former Honda and Super Aguri driver Anthony Davidson is to move into a full-time commentary role for 2009, according to an announcement made today.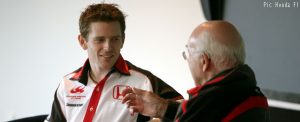 The BBC, due to take over Formula One coverage from ITV this year, has revealed its plans – which include an expert analyst role for Davidson on Radio Five Live alongside commentator David Croft and pitlane reporter Holly Samos.
Davidson has filled the summariser role as a guest on several previous occasions and has generally received a very positive response to his efforts.
However his fans will be disappointed to see him switching to a commentary role at the comparatively young age of 29 and never really having had the chance to make an impression on the sport.