The dwindling ranks of British Formula One drivers have just received a welcome boost from an unexpected direction after Renault signed A1GP's Adam Khan in a demonstration role.
The Enstone-based team has announced that Khan, 23, who is more usually associated with his dual driver and seatholder role for Team Pakistan in A1GP, is to be in charge of showing off the Renault F1 R28 at city demonstrations and circuit presentations for World Series by Renault events.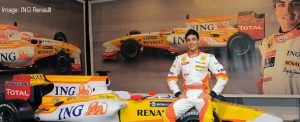 Of course, there's a significant difference between a PR role and any sniff of a race or even a test drive.
However it gets Khan behind the wheel of the car. And so many successful drivers owe their careers to attracting the notice of team boss and F1 powerbroker Flavio Briatore, no matter who they ended up driving for.
Briatore said of the signing: "We are pleased to welcome Adam into the ING Renault F1 Team as our demonstration driver.
"Our demonstration programme gives young talent the chance to work closely with the team and to showcase their skills behind the wheel of our Grand Prix cars.
"Adam now has the chance to demonstrate the talent he has shown throughout his career and to gain valuable experience working at the pinnacle of the sport."
Khan added: "It's an honour for me to join the ING Renault F1 team and I really can't wait to get started.
"I have enjoyed a really warm welcome into the team and everyone has been friendly and helpful. It will be awesome to showcase the R28 on the streets of some of the world's greatest cities and to allow the public to witness the power and speed of an F1 car.
"The opportunity in itself encompasses a huge array of things and is fantastic preparation for the future, which I hope with hard work and commitment, as well as enjoyment, will be a bright one."
The team says Khan is due to make his debut for the team when its Roadshow programme kicks off in the Middle East early this year.
Hailing from Bridlington in Yorkshire, and of Pakistani descent, Khan has spent three seasons behind the wheel of an A1GP race car as well as competing in Italian F3000 and GP2 Asia with the Arden team.
He has also received an award from the President of Pakistan for services to motorsport and acts as a motorsports ambassador for that country.
Khan recently took time out from his racing career to finish his degree in business studies at King's College, University of London.
He then put it to use by taking over the running of Team Pakistan from previous seatholder Arif Hussain – but the 2008/09 season has proved to be a trying one for the team and its fans.
Four races in and Khan has yet to debut after the much-anticipated new Ferrari-inspired chassis proved to be ill-suited to his 6ft 1in frame.
Production difficulties meant that it was as much as the series could do to provide vehicles for averagely-sized drivers, never mind adapting one, and so he has yet to take part in a race.
We've been following Khan's career with interest for a while now as he battled with his ill-fitting car, racked up wins in Italian F3000 and demonstrated a shrewd business brain.
What we didn't expect to see was him mount an assault on F1 – but we're excited and impressed to see him do it. It will be interesting to see where this leads him.