Yeah, yeah, we know. DTM is tin-top, and we're supposed to be about open-wheel racing. But we like an excuse to catch up with what Katherine Legge is doing.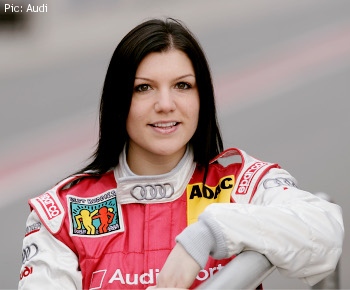 And we've been given one by her Audi team in the shape of a Q&A with the former Dale Coyne Racing Champ Car driver to mark the series' third appearance at Brands Hatch on Sunday.
Legge will be racing in the UK for the first time in four years. And she won't be the only familiar face for Brits on Pole readers.
McLaren tester Gary Paffett races a rival Mercedes in the series, while the A1GP driver Oliver Jarvis also drives for Audi.
And that's without British DTM regulars Susie Stoddart, Paul di Resta and Jamie Green. (Don't mention Ralf Schumacher.)
Find out everything you ever wanted to know about the Deutsche Tourenwagen Masters series on its website here >>
Here's an insight into what Legge makes of the track, and what she's expecting from the weekend's racing:
What memories do you have of Brands Hatch?
I return to Europe after having lived and raced in the USA for quite some time. Brands Hatch is my home race and is the closest circuit to my parents' home in Surrey. I started from pole position at Brands Hatch in a Formula Ford once. I'll be competing in a race in England for the first time in four years.
In your view what characterises the track?
I know both track layouts from my earlier career. The DTM races on the extremely short Indy circuit. The average speed is actually quite high; the result on such a short track is the high number of 82 laps. I always find it much more exciting to drive on circuit with elevation changes.
Where are the good overtaking spots?
On fast circuits overtaking is effectively much more difficult than on slow tracks, also the circuit is very short. I'm quite sure that the Druids hairpin after the uphill section is the ideal place to try and overtake.
Where should the spectators sit or stand to see the best possible action?
"The best thing for the spectators is that they can see the majority of the circuit form many positions. Watching from the outside of the first corner is definitely spectacular, and also the speed of the cars in the uphill section leading towards the hairpin. In the last corner the fans are relatively close to the cars which give them a fantastic impression of the speed.
• Legge, Jarvis and Paffett aren't the only British racers making an appearance on Sunday – Lewis Hamilton is due to do some demonstration laps in a McLaren F1 car, as well as signing autographs for fans.
Read an interview with him here, and find out the event details >>