Double podium scoring Danny Watts is definitely back in the car for the British team in the latest round of the international A1GP series, due to be held at Malaysia's Sepang circuit this weekend.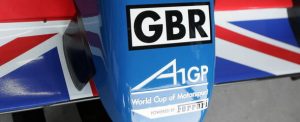 Last week team principal Katie Clements said that it would be "questionable" if Watts wasn't considered.
But, since the driver took the team from a standing start to two third places after a string of problems delayed its entrance into the competition, we felt here at Brits on Pole that the sporting case for Watts continuing was unarguable.
It just remained to be seen whether sporting considerations would win out – and, to our great relief, they appear to have done just that, for the next race at least.
Watts, the 2002 Formula Renault UK champion who has already been involved with A1GP for some time, was initially called up as a one-off for China, partly due to the fact he had helped to test the new car and therefore had invaluable experience behind its wheel.
He impressed the team after securing pole position for the feature race and getting on the podium twice during the series' Chinese round, a feat the team admitted they believed was "virtually unattainable" before the weekend.
He said that his plan was now to win races: "We had a strong start in Chengdu last weekend and it's obviously important to continue that form in Sepang.
"The aim has got to be to target a couple more podiums, but we have already shown we are competitive, so race wins must be our primary goal from now on. I will do my utmost to achieve these goals for A1 Team Great Britain and move us higher up the championship table."
Team principal Katie Clements added: "I am still overwhelmed by the achievements of the team and Danny from China and we are heading to Malaysia with a very positive mindset.
"The aim is to score another good haul of points and take another step up the championship table."
The series heads to Malaysia's Sepang circuit this weekend for round three of its 2008/09 season. Team Malaysia currently tops the rankings with 28 points and home favourite Fairuz Fauzy will be looking to hang onto that lead.
Meanwhile Team Ireland, represented by Adam Carroll, and currently in joint second place with France, will be looking to eat into that total and establish a definitive lead of its own.
Carroll said: "This is the first time in seven seasons of racing I have come to a team without any pressure of money hanging over me. It means I can concentrate my efforts 100 per cent physically and mentally on the racing.
"I feel more prepared than I have ever been before and I feel that now is the time for me to step up and do the job. You don't get many opportunities as good as this in life, and I've never been more ready."
Marco Andretti is due to get his second outing in the A1 Team USA car and says he is looking forward to the race.
"We should be able to take all the things we learned in China and make some good improvements this next time out.
"This is still a very new programme for the team, but I feel confident that we will show more pace each time out."
Despite the series' off-track problems, the on-track action has been pretty exciting so far.
Four nations have taken victory in four races. And every A1GP champion so far has won the Malaysian feature race in the relevant year, so everyone will be watching Sunday's event rather closely.
What happens when? Rookie driver and developing nations' sessions are on Friday from 10.45am to 11.15am and again from 11.35am to 12.05pm local time. All teams can take part in the later practice session from 2pm to 3pm.
Final practice and qualifying for the sprint and feature races will take place on Saturday with the two races scheduled to run on Sunday at 11am and 3pm respectively.
To convert between GMT and Malaysian time, click here. And check out the A1GP website for live race coverage options.