A strong weekend for Team GBR fell apart when a freak accident in the feature race cost Oliver Jarvis a possible second consecutive podium – and led him to admit Britain's hopes of the title are now over.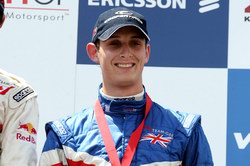 Despite his podium, Olly Jarvis conceded the British title hunt was over
Jarvis had raced to second place in the sprint, behind Canadian rookie Robert Wickens, but disaster struck in the feature race when Wickens spun and drove the wrong way down the track while trying to recover, hitting Jarvis.
The race was won by Switzerland's Neel Jani, who had finished third in the sprint. His efforts in the face of a violent stomach bug took Switzerland back to the top of the standings. Britain is now sixth overall, with Ireland in ninth.
Jarvis' weekend had started on a much more optimistic note with a second place in the sprint race. Wickens, at 18 the youngest-ever pole-sitter in A1GP, kept all-comers behind him to grab Canada's maiden sprint victory – but Jarvis managed to pick up two places on his fourth-place qualifying position and net himself a podium despite a wheel-to-wheel tussle with New Zealand's Jonny Reid going into turn one that left his car damaged.
Jani, tipped for greatness here at Brits on Pole ever since we watched him at Silverstone in pre-season testing, started the race in fifth and made up two places.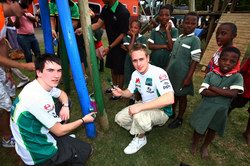 Ireland's Adam Carroll (right) and Niall Quinn were among the drivers to lend time to charity projects
Further down the field Pakistan's Adam Khan crossed the line in 13th place after a relatively uneventful drive in an extremely eventful race. Both he and Ireland's Adam Carroll gained an extra place after Germany's Michael Ammermüller was excluded for an ill-timed overtake that shunted The Netherlands' Jeroen Bleekemolen.
Khan was also successful in halting the charge of South Africa's Adrian Zaugg who started from 20th on the grid and worked his way through the field to cross the line in 14th.
Carroll was next home in 15th place, not a bad result after a fuel pressure problem in qualifying meant that Ireland failed to post a time.
This left them to start from the back of the grid alongside home nation South Africa. But Carroll made a clean start and managed to capitalise on mistakes by those ahead moving up to 16th by the end of the first lap and making up a further place when Brazil broke a front wing.
Britain's Jarvis said post-race that he'd enjoyed his point-scoring run: "It's great to come back to South Africa, they have done a fantastic job. I've had some good results on street tracks so I was looking forward to coming here.
"I got a great start and managed to break extremely late around the outside. I actually thought I was going to get the lead but unfortunately New Zealand tagged Robbie Wickens of Canada, which just pushed him out wide which compromised me a little bit.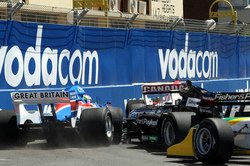 GBR and New Zealand tussle for position in the sprint race
"Then as I tried to go around the outside of the corner, New Zealand again drove into the side of me and damaged the car quite a bit. I managed to get into second but from then on I was really struggling so was never quick enough to challenge for the lead. But I was happy to finish on the podium."
He said he welcomed the decision to include street tracks in the A1GP calendar.
"It offers something very different as a driver. It's very technical, it's a particularly fast street track but there's just no room for error. It takes a lot of courage but also a lot of finesse to be quick round here and it's fantastic that we have returned here once again."
In the feature race Jani dominated to move his Swiss team 10 points ahead of France in the championship standings. New Zealand drops to third after scoring just two points during the weekend.
France's second-place finish in the feature represented another remarkable performance by driver Loic Duval, who only arrived at the track from Japan on Saturday morning and qualified eighth. Portuguese rookie Filipe Albuquerque raced to third position from ninth on the grid, taking an impressive first podium on his A1GP debut.
But Olly Jarvis' hopes of beating him to the final podium place evaporated with nine laps remain when Wickens spun out at turn one and was hit the Brit as he rounded the tight hairpin. Jarvis pitted for a new nosecone while the safety car came out, but just after the race had restarted an ambitious move by Zaugg saw him hit the weekend's moving target, Jeroen Bleekemolen.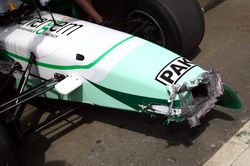 Adam Khan took a beating in the feature race
The accident caused a five-car pile-up and the only real option with just one lap remaining was to call an early end to the race. Jarvis finished a provisional 11th with stewards investigating the crash, with Khan failing to finish amidst the carnage and Carroll three laps down following a shunt from Australia.
After the dust settled, Jarvis wasn't left feeling particularly optimistic: "We're absolutely gutted. The team has worked so hard this weekend and a lot of guys have been ill or struggling, plus we had to rush to get the car ready after the damage from the sprint race.
"But to race for an hour and be taken out is devastating for the team and myself. Hopefully we can make amends over the next three rounds and deliver some wins, particularly at our home race at Brands Hatch in May.
"Unfortunately though, it looks like our title hopes are over for this season."
Team principal Katie Clements added: "We were very happy with the podium this morning and scored some strong points. We were in a good position for this afternoon and having our feature race podium hopes taken away through no fault of our own is obviously not what we wanted.
"With South Africa our closest competitor in the championship, we had a good chance to move up to fifth after the feature race and, because of the accident, we have not been able to do that.
"Nevertheless, we have had another strong weekend in terms of pace and performance, and we will carry that momentum to the next race in Mexico."
The A1GP series now heads to Mexico City for round eight of the 10-event championship on 14-16 March 2008.
Photos courtesy A1GP.
The standings following Durban:
| Pos | A1GP team | Points |
| --- | --- | --- |
| 1 | Switzerland | 118 |
| 2 | France | 108 |
| 3 | New Zealand | 98 |
| 4 | South Africa | 83 |
| 5 | Germany | 77 |
| 6 | Great Britain | 70 |
| 7 | Netherlands | 69 |
| 8 | Canada | 52 |
| 9 | Ireland | 50 |
| 10 | China | 43 |
| 11 | Brazil | 40 |
| 12 | India | 28 |
| 13 | Mexico | 22 |
| 14 | Australia | 20 |
| 15 | Portugal | 19 |
| 16 | USA | 13 |
| 17 | Czech Republic | 10 |
| 18 | Malaysia | 10 |
| 19 | Italy | 7 |
| 20 | Pakistan | 1 |