It's Team Ireland or bust this weekend for the A1GP finale at Brands Hatch – so it's a good thing that our boy from Portadown is in with a shot at the title.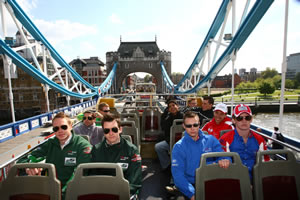 The season is effectively over for Team GBR after the company that ran it went into administration before the Portimao race.
Series boss Tony Teixeira said that he would keep the team running, leading to it being driven in borrowed overalls and serviced by the German pit crew.
There has been no further news about its future, although Teixeira has promised that "as long as we have A1GP, Team GBR will run."
Similarly, suggestions that Team Pakistan seatholder and driver Adam Khan was going to try to get at least one race out of his wrecked season have evaporated.
In the absence of any good mojo for the home team, fans are rallying round Carroll and Team Ireland, in with a very good chance of securing the title at what is the nearest thing they have to a home race.
Carroll in the zone
Speaking from Dublin earlier this week, where the Team Ireland car was making its first ever appearance, Carroll said: "It is great to have so much support in Ireland ahead of the Brands Hatch weekend.
"There is real interest in what we are doing and the fact that A1GP has provided Ireland with an opportunity to compete and win against major sporting nations in the World Cup of Motorsport.
"The team has been at this for four years and really built a following, but the successes of the past year, especially since we won in Mexico last season, has generated enormous goodwill towards the team."
He said that everyone who had seen the outfit had been impressed by its professionalism and presentation.
"Frankly, everyone was very excited by it and we'll have a good few more fans in Brands Hatch as a result.
"All I have to do now is to focus on the task ahead; to win in Brands Hatch and make sure that A1 Team Ireland closes on the World Cup of Motorsport title for the first time. This is a great opportunity so we want to make the most of it."
Team boss Mark Gallagher is looking to do just that – he is talking about plans to expand the team's involvement in motorsport with entries in series such as F3, the upcoming GP3 category or even F2 or GP2.
Team GBR makes the best of it
Team GBR driver Dan Clarke and rookie Aaron Steele are making the best of things. Clarke is very familiar with Brands, having beaten off all comers for victory there in the 2004 Formula Ford Festival.
He said: "Because of that success this circuit will always be special for me. It's also a great place to go racing, both for drivers and fans and I'm sure it will suit the A1GP car.
"It's a unique home race for me, as I know that as the driver of the British car most of the fans will be supporting us. It is a big motivation to do as well as we can, although I am realistic about our potential for the weekend.
"I'm up against drivers who have much more experience of this car and the series, while I jumped in only recently. Of course we're all racing to win and a podium would be fantastic for the British team at the British race, but if we're close to this it will still be an achievement."
Frankly, running a car is an achievement, with things placed as they are.
Steele, 20, who hails from nearby Chatham, is not hiding his excitement about getting to drive the car on Friday morning: "To be given this opportunity is simply the stuff of dreams. This is the highlight of my career so far, which I am extremely excited about.
"I plan to make the absolute most of this, doing a good solid job for A1 Team GBR that will hopefully see me continue working with the team, to whom I am extremely grateful.
"I just cannot wait to drive the awesome A1GP car around Brands Hatch, not only my home circuit but also my favourite."
Drivers do the tourist bit
In the run-up to the event, London played host to the A1GP drivers as they were taken on a sightseeing trip on an open-top bus.
Stopping off at Piccadilly Circus, Trafalgar Square and Nelson's Column, the Houses of Parliament and Big Ben, the London Eye, Tower Bridge and the Tower of London.
Dan Clarke and Aaron Steele were joined by Adam Carroll and Team Ireland colleague Niall Quinn, Australia's John Martin, China's Cong Fu Cheng, Mexico's Salvador Duran, Monaco's Clivio Piccione, New Zealand's Earl Bamber, and Switzerland's Neel Jani and Alexandre Imperatori.
Clarke said: "Fortunately I live just west of London, near Windsor, so I have the perfect balance between being out in the sticks and being able to jump on the train to quickly get into London.
"It was nice to be on the bus today because, being English, we don't really get on buses to do tourist things so it was nice to learn a bit more about London."
Carroll added: "I've lived in England for a long time. I don't come down to London too much, but it's a beautiful city, so it's always a nice treat to visit and see what a spectacular place it is.
"For the championship to end here at Brands Hatch it couldn't be better. We get some good support here and we had some great publicity back in Dublin and Belfast last week, so hopefully that will help rally up a bit more support.
"It's the closest thing we have to a home race and all our family and friends are turning up for this, so we just need to go and get the job done."