Adam Carroll scored a workmanlike win in A1GP's Brands Hatch sprint race and needs only to finish fifth in this afternoon's feature race to send the championship across the sea to Ireland.
The Portadown racer started from pole but lost the lead to Mexico coming into Paddock Hill Bend. A slick pitstop put the victory back on track.
Championship rival Portugal briefly climbed to third at the start but slipped back a place after tangling with the American car, while defending champions Switzerland – the only other team capable of winning the title – remained stranded down in eighth.
With very little overtaking on track, the race was settled in the pitstops where the teams that came in earliest generally benefitted.
India was the only team at the front of the field to pit on lap four, and it gave Narain Karthikeyan the boost he needed to get among the leaders.
Mexico and Ireland came in a lap later and the swift Irish turnaround put Carroll ahead of Salvador Duran – with Team India splitting the pair of them.
Portugal and the USA stayed out until lap seven, but it did them little good. JR Hildebrand Jr took third ahead of Mexico but couldn't hold it, and the order settled down with Ireland building a lead from India, ahead of Mexico, the USA, Portugal, the Netherlands, Australia and Switzerland.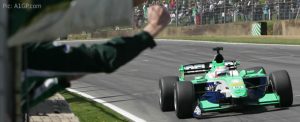 By the time he crossed the line, Carroll had built the Irish margin of victory to an untroubled 7.2 seconds – and he also earned the bonus point for setting the fastest lap of the race. Further back, Dan Clarke brought the British car home in 13th of the 16 finishers.
Just six points from the final race will guarantee the Irish victory in the championship, but Portugal and Switzerland are still able to win if Carroll falters. Here's how the A1GP website assesses it:
Ireland will win the title by finishing fifth or better in this afternoon's Feature race, no matter what else happens.
If Portugal is to have any hope of winning the title, it needs to finish in at least second, and hope that Ireland fails to score, and Switzerland doesn't beat it to victory.
If Switzerland is to regain the title, it also needs to finish at least second with Portugal not beating it to victory, and Ireland having a shocker.