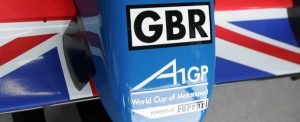 The Team GBR car in the final year of A1GP, when it was powered by Ferrari and using a chassis inspired by the Italian marque's 2004 F1 challenger.
07.11.2008 Chengdu, China, Danny Watts (GBR), driver of A1 Team Great Britain – A1GP World Cup of Motorsport 2008/09, Round 2, Chengdu, Friday Practice – Copyright A1GP – Free for editorial usage
This entry was posted on Thursday, March 25th, 2010 at 3:40 pm and is filed under . You can follow any responses to this entry through the RSS 2.0 feed. You can leave a response, or trackback from your own site.